Agric Scheme: CBN provides N1.3bn credit guarantees to farmers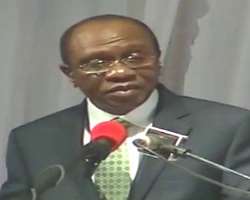 The agricultural initiative of the Central Bank of Nigeria (CBN), the Agricultural Credit Guarantee Scheme (ACGS), recorded N1.33 billion guarantees to 7,290 farmers in October 2014.
  The guarantee was an increase of 60.9 per cent above the level in the corresponding period of 2013.
  According to CBN's Economic Report for the month of October 2014, the agricultural sector remained generally affected by the negative effects of the insurgency activities and overall insecurity in the North East, though farmers in different parts of the country were engaged in harvesting of various crops.
  In the Northern part of the country, farming activities, which were dominated by harvesting of cereals and legumes, however, showed low prospects of significant output increase in the region due to the security challenges.
  Meanwhile, in the Southern states, the predominant activities included harvesting of maize, yam and cassava, while in the livestock subsector, farmers intensified re-stocking activities in anticipation of increased sales during the end of the year festivities.
  A sub-sectoral analysis of the loans guaranteed showed that the food crops sub-sector had the largest share of N593.9 million (44.6 per cent) guaranteed to 4,943 beneficiaries.
  This was followed by the mixed crops sub- sector, N348.0 million (26.1 per cent) guaranteed to 856 beneficiaries; livestock, N186.4 million (14 per cent) was guaranteed to 724 beneficiaries; cash crops, N170.8 million (12.8 per cent) to 614 beneficiaries; and fisheries, N19.4 million (1.5 per cent) guaranteed to 64 beneficiaries.
  Other sub-sectors had N13.5 million (one per cent) guaranteed to 89 beneficiaries.
  A further breakdown of the analysis by states showed that 27 states, including the Federal Capital Territory, benefited from the scheme during the review month, with the highest and lowest sums of N379.6 million (28.5 per cent) and N2.3 million (0.2 per cent) guaranteed to Delta and Osun states, respectively.
  At the end October 2014, the cumulative amount released by the CBN under the Commercial Agriculture Credit Scheme (CACS) to the participating banks for disbursement stood at N245.9 billion for 326 projects/promoters.
  Also, total non-oil export earnings, estimated at $597.5 million, grew by 4.2 per cent and 86.3 per cent above the levels in the preceding month and the corresponding month of 2013, respectively.
  The development reflected, largely, the increase in the earnings from industrial and manufacturing sectors.
  A further breakdown of activities by sectors showed that proceeds from industrial, manufactured, agriculture, minerals and food products sub-sectors stood at $331.64 million, $214.55 million, $34.31 million, $11.50 million and $5.48 million, respectively.
  The shares of industrial, manufactured, agriculture, minerals and food products sub-sectors in non-oil export proceeds were 55.5 per cent, 35.9 per cent, 5.7 per cent, 1.9 per cent and 0.9 per cent, respectively.