Ronaldo Wins Soccer's Best Player Award Again, Beating Messi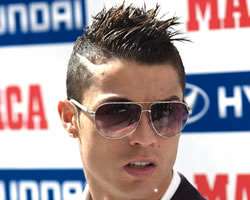 Real Madrid's Cristiano Ronaldo was named world soccer's best player for the second straight year, beating record four-time winner Lionel Messi and goalkeeper Manuel Neuer to the Ballon d'Or trophy.
The 29-year-old from Portugal collected the prize for 2014 at a ceremony in Zurich today after a poll of national team coaches, captains and journalists organized by soccer ruling body FIFA. He won 37.66 percent of all votes, ahead of Messi with 15.76 percent and Neuer with 15.72 percent, FIFA said. Germany's Nadine Kessler won the women's World Player of the Year.
'It's been an unforgettable year,' Ronaldo said at the event. 'I want to continue working as I have and go on to more titles. I want to become one of the greatests players ever.'
Ronaldo scored a record 17 goals in the Champions League last season as he helped Real Madrid win Europe's elite club competition for the first time since 2002 with a 4-1 final victory over Atletico Madrid after extra time.
His mark improved the 14 goals scored by AC Milan's Jose Altafini in 1963 and Barcelona's Messi in 2012. Messi had eight Champions League goals last season before Barcelona was eliminated by Atletico Madrid in the quarterfinals.
Ronaldo scored in all but one of 11 Champions League matches, reminding fans when he passed Messi's record by counting out the goals on his fingers.
Bayern Munich's Neuer allowed four goals in seven games as Germany won the World Cup in Brazil, beating Argentina 1-0 in the final. The only goalkeeper to have won the Ballon d'Or was Russia's Lev Yashin in 1963.
FIFA organized a world player of the year award since 1991. In 2010, it merged the contest with France Football magazine's Ballon d'Or, or Golden Ball, first held in 1956.
In 2008, Ronaldo won the FIFA award after helping Manchester United win the Champions League and Premier League titles. He joined Real Madrid in 2009. Agency report