Umeh: A 'Victor' and his many Victories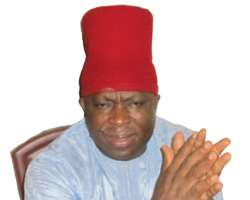 The debate as to whether someone's given name has anything to do with how that someone eventually turns out in life is an open-ended question. But whether we are for or against, the truth is that in life, we often find individuals who go ahead to fulfil the meaning of their names in every sense of it like a prophecy, negatively or positively. One man that has positively fulfilled – and continues to fulfil – his name in recent history is Victor Umeh, the indefatigable national chairman of the All Progressives Grand Alliance (APGA) and the party's candidate for the Anambra Central Senatorial seat in the 2015 elections.
An accomplished estate manager and surveyor, Victor Umeh came into Nigeria's political firmament like a shining star. He was a founding member of the People's Democratic Party (PDP) in 1998 and a pioneer member of APGA in 2002. Ever since then, his light has never grown dim and his name has remained synonymous with victory.
Like a dogged fighter and an astute politician that he is, Umeh has, in the course of taking APGA to greater heights and building it up as the third-largest political party in Africa's most populous nation, fought many battles, scaled many hurdles planted in his way by his detractors, and won many legal victories to remain on top as APGA helmsman. When those desperate to remove him from office dragged him to the Economic and Financial Crimes Commission (EFCC), Umeh floored them when he took the party's financial books to the commission, then headed by Farida Waziri. It was a highly impressed Waziri that reportedly showered praises on Umeh for keeping the party's books clean.
Just as recent as June 18, 2014, the Abuja Division of the Court of Appeal once again affirmed him as the authentic national chairman of APGA, setting aside the ruling of the Federal High Court, Abuja, which had earlier sacked him and installed Maxi Okwu as the chairman on January 15, 2014. In allowing the appeal, the appellate court insisted that Okwu had no legal right whatsoever to bring a suit against Umeh, having been earlier expelled from the party.
Prior to his battle with Maxi Okwu over APGA leadership, Victor Umeh had successfully fought Chekwas Okorie up to the Supreme Court, after which Okorie was forced to leave APGA and form his own political party. In all of this, Umeh has ensured the unity of the party and all its structures at all levels. Recall that it was under Umeh's leadership that APGA won governorship elections in Abia State in 2007 (Theodore Orji) and Imo State in 2011 (Rochas Okorocha), although both men later left the party in a most undignifying manner.
As a testimony to his numerous efforts in deepening democracy in Africa's largest economy by GDP and his contributions to the development of the country, Umeh was on September 29, 2014 honoured with the national award of Officer of the Order of the Federal Republic (OFR) by President Goodluck Jonathan. At an event to celebrate the honour, Umeh narrated the hurdles the party under his leadership had crossed, saying emphatically that no other political party would go through the kind of turbulence that APGA has seen and come out alive.
"We produced a governor that served Anambra State for eight years and his eight years was a turbulent period for the party in Anambra State because external opponents of the party were after us, which led to a long judicial battle. In 2003, the secretary of the party, Shinkafi, was almost killed in defence of this party. When we won at the Court of Appeal that made way for Peter Obi to be sworn in as the governor of Anambra State, Shinkafi was attacked at his Gusau residence by enemies of APGA," Umeh said, adding that his leadership was the most attacked because of selfish interest, but in living up to the prophecy of his name, he has always emerged victorious to the shame of his enemies.
The event, which had in attendance key political figures including Willie Obiano, Anambra State governor, Emmanuel Iheanacho, former minister of interior, Victor Ogene, a member representing Ogbaru Federal Constituency of Anambra State at the House of Representatives, among others, also turned out to be some sort of endorsement meeting for Umeh's senatorial bid. But the most striking was Ogene's comment. "For me, I think it is a recognition of his sterling politics not just in leading APGA as a political party but in deepening democracy and the rule of law in Nigeria. If you would remember, at a certain time in Nigeria the political space was so choked that if you don't get nomination in one of the big political parties, it was like a battle. So, when a party like APGA came on the scene, it helped to ventilate the people's grievances and aspirations. People from especially the South-east found in APGA a veritable platform. There have been several such platforms, but due to the tenacity of Victor Umeh, APGA was able to grow from strength to strength. But, of course, with the guardian of our then national leader, late Dim Chukwuemeka Ojukwu."
Before formally throwing his hat into the ring for the Anambra Central Senatorial contest, Umeh had several groups – including the Anambra Central Political Forum, a coalition of APGA members led by Emeka Onuorah; Youths for Greater Anambra State (YGAS), the youth wing of Ohanaeze Ndigbo; and APGA Women for Good Governance, among others – beckoning on him to pick up the gauntlet.
In accepting the call to serve, Umeh, at a party organised by APGA Solidarity Movement (APGA-SM) to mark his 52nd birthday anniversary on July 19, said, "Stakeholders in Awka South and Awka North Federal Constituency were the first. They brought me to Fino­tel Hotel and threatened to kill me if I don't run. Anambra Central Senatorial Zone, the seven local government chairmen and their councillors, met and said if I don't accept, they will kill me, and today, the leader of council in Anaocha local government moved a motion here, supported by youth leaders, all youth leaders in the state and all stakeholders and said I must represent you.
"Because of the need to provide effective representation for our people, I want to stand here with all humility before the deputy governor representing the governor and before all of you to say that because of the support I have seen given to me and the show of love extended to me, I, Chief Sir Victor C. Umeh, Ohamadike Ndigbo, relying on the support from all of you; and having carefully examined the motion and the support and solidarity extended to me, and in recognition of the needs of our zone, declare that I will vie for Senate and that APGA must win Anambra Central Senatorial zone in 2015."
Indeed, political analysts believe that having contributed immensely to the sustenance of democracy in Nigeria, and having played a key role in the growth and development of APGA since its inception, Umeh would make a good representative of his people at the Red Chamber. With his display of great sense of courage, steadfastness and tenacity of purpose, his admirers are of the view that he would be able to truly represent the people of Anambra Central and equally help to further champion the cause of the Igbo nation in the National Assembly.
A political observer in Anambra told this writer that in spite of the boasts of the incumbent senator representing Anambra Central zone, Chris Ngige (through his media aide, Charles Amilo), that he would never lose sleep over the decision of the APGA chairman to run for the office, and despite Amaechi Onowu, Anambra State PDP vice chairman, saying that the dream of the APGA stalwart of becoming a federal legislator was a huge joke that would turn out to be a nightmare, there was every indication that Umeh would once again come out victorious.
Indeed, Umeh is the one who seems not be losing sleep at all. While answering questions from APGA's three-man screening panel in Awka – composed of Tayo Sowunmi, national vice chairman (South West), Ifeanyi Mbaeri, and Abubakar Adamu –Umeh said that apart from going to the Senate to give his people a better representation, he also wanted to give APGA victory for once in the senatorial election, lamenting that for the eight years the party has been in power it has never won the senatorial seat. "So, I consider it a challenge. APGA has been doing well in the past nine years. The party has a very bright future," he said.
Asked how ready he was to tackle Ngige, Umeh said, "Ngige has been my customer. It was through my strenuous effort that I was able to remove him from office when he stole our mandate. I was PW1 and stood in the witness box for three months. And after he went to the Court of Appeal, we defeated him. He knows he cannot win against me. Ngige is not a candidate that will boast if I am the one contesting with him."
Disclaimer:

"The views/contents expressed in this article are the sole responsibility of the author(s) and do not necessarily reflect those of The Nigerian Voice. The Nigerian Voice will not be responsible or liable for any inaccurate or incorrect statements contained in this article."