Rivers: Wike picks Banigo as running mate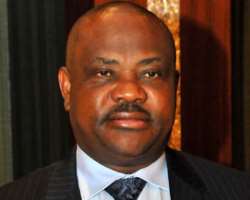 The Peoples Democratic Party (PDP) governorship candidate in Rivers, Mr Nyesom Wike, has picked Dr. Ipalibo Banigo as his running mate for the 2015 governorship election.
Speaking at a ceremony in Port Harcourt on Tuesday to present Banigo, the governorship candidate described his running mate as a woman of integrity.
He said ' Dr Ipalibo Banigo is a woman of uncommon integrity, devotion to duty, a technocrat, a professional and a career woman who shares Rivers' vision.''
The News Agency of Nigeria (NAN) reports that Banigo was one-time Secretary to Rivers Government, Head of Service (HOS) and Permanent Secretary in the state, among other positions.
He said her choice was informed by the inspiration and emulation of President Goodluck Jonathan and his wife, Dame Patience's encouragement of intelligence and credibility of women.
Wike commended women in the Federal Executive Council for performing creditably well.
He said it was the first time a woman was given such an opportunity in Rivers since its creation in 1967, adding that the country's 1999 Constitution was gender-sensitive.
He added that 'she has joined us to rebuild our state; the time has come to acknowledge the central role of women in our lives.''
He assured that Rivers women would sing new songs as they would be empowered economically and be emancipated.
The former education minister, who said that governance was not a personal property, promised that his government would be committed to the service of the people, if elected.
He also promised to run an open door administration and one that would give the people opportunity to excel.
In her acceptance speech, Banigo commended Jonathan's Affirmative Action Programme.
She said Rivers had dwindling finances, insecurity and unemployment, among others, adding that those challenges needed a focused, dynamic, energetic and visionary leader to tackle them. (NAN)