UNMEER CONFIDENT THAT CONAKRY WAREHOUSE FIRE WILL NOT HINDER EBOLA RESPONSE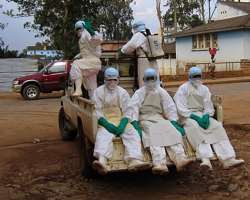 Conakry, 18 December 2014 – A warehouse with supplies for the Ebola operation caught fire this morning in Conakry at the main humanitarian logistics base located at the city's airport. The fire in the warehouse, mainly containing medicines and laboratory materials, was discovered around 8:00 am (GMT) when the workers arrived.
The warehouse is used by Medecins Sans Frontieres (MSF), the World Health Organization (WHO), UNICEF, the Red Cross, the World Food Programme (WFP), and Pharmacie Centrale de Guinée to store supplies for their Ebola Emergency Response under the umbrella of the United Nations Mission for Ebola Emergency Response (UNMEER).
"This is a regrettable loss, but no one was hurt and we will move quickly together with our partners to replace the lost supplies", says Anthony Banbury, Head of UNMEER. "We certainly won't be deterred in our fight against Ebola."
The exact amount of property and material damaged as a result of the fire is not yet known. Fire fighters of the airport and of the city of Conakry, who rapidly intervened are still trying to extinguish the fire. An investigation is ongoing.
No casualties have been reported and the personal protective equipment stored in WFP tents next to the warehouse have not been touched by the fire.
Guinea is one of the three West African countries hardest-hit by the Ebola virus which has killed 6,841 people. There are currently 18,464 confirmed, probable and suspected cases of Ebola Virus Disease (EVD) in Guinea, Liberia and Sierra Leone.