Mavin Records Boy, Reekado Banks Exchange Words With Fan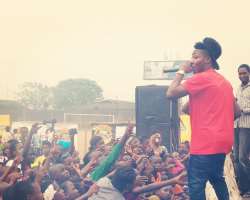 Though many have questioned the ability and credibility of Reekado Banks to match up with the Mavin Records status, but the singer is not moved by any gossip as he keeps doing his thing, which is entertaining his numerous fans with his music and his dance skills.
Reekado Banks, who recently won the 'Rookie of the year' awards at the just concluded Headies is still basking in the euphoria of the award. He stated that that whether people like him or not, he is ready to make his mum proud of him.
"Like or hate the boy, the boy will make momma proud by God's grace. #my love for kids # off to One Mic Naija Rehearsals," he declared.
However, the singer did not escape the axe of some of his aggrieved fans, when he (Reekado Banks) dropped the message on his social media with the picture of him entertaining children. One of the fans, who goes by name 'husbandman 11', mocked him by asking him if the children were his own crowd when others were having larger and adult crowd.
Husbandman11: Is that your crowd?......mehn common you can do better than this
Reekadobanks: @husbandman11 I'll reply you when you know the difference between "common" and "come on"
Husbandman11: Thanks for the correction but I need no replies but try to pull a better crowd…am not hating but saying the truth I see
Reekadobanks: @husbandman11 so all you are saying is, because they are kids and they are from the streets, they don't deserve a good time with their favorite Tv people?? One of the reasons we are not growing in this part of the world. If a white artiste came here and did this you will call it humility, but if we do it, we are reducing our status. I pray for you bro.
Husbandman11: @reekadobanks you got it all wrong….i was trying to encourage you that you can do better than that….mehn am not hating am a big fan of you…
Dorah_231: @husbandman11 why are you people like this? Are you not looking well or something? Can't you see it's an xmas party for the kids and not adults, seriously people should mind the use of words or language.
Husbandman11: @dorah_231 am kinda sorry boo…am not hating
Ebube1ste: na wa o…M.I said 'it's like toothpaste, without your gist in their mouth, they have toothache." @reekadobanks you're doing well…you have arrived…presence of haters is a proof…Thank for the chop am video btw..you promised me and you delivered..#rookie of the year…@husbandman11, there are polite ways to criticize…if na you, how you go feel…[email protected] is a human being too..he has feelings…He can hurt.
husbandman11: Plssssssss am on my knees #Reekaddicts ....i apologize for the comment pls I am really sorry...I wasn't hating but I think I passed the message in a wrong way...bigger him I always pray...pls you all should forgive me.
reekadobanks: @husbandman11 check ur dm bro
iam_ultim8: @husbandman11 u deserve no reply...try hustle and pull half this crowd b4 I can reply you...and never try mess with @reekadobanks and #ReekeAddicts.© 2014Nollywoodgists.com