Did Olisa Dibua Hurt His Leg?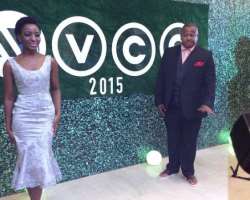 What was Radio host, Olisa Dibua thinking when he wore slippers to an awards night held in Lagos all dressed in suit?
Well, the radio and 'the truth' host, could not escape the lens of naija paparazzi as he was cut with the lens trying to play a fast one.
Though he has not said anything about the poor dress sense, but could it possibly be that he had an injury in the leg which prompted him wearing such to a big event of such?
But he could have actually dressed in native attire to go with rather than dressing in suit and slippers.