All Natural Hair At Miss West Africa International 2014 #MWA2014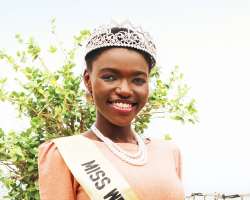 The build up to this year's Miss West Africa International 2014 (hashtagged #MWA2014) has been one like no other. With contestants coming from various West African countries to compete in Nigeria, Delta State, in the only queen of queens African competition.
Previous years saw the International edition of the pageant take place in Cape Verde, Gambia and London also. However, new revelations have been made for the 2014 event dubbed as Queen Of Development. The Miss West Africa ltd organization has demanded that all participating contestants are requested to have natural hair, or wear a hairstyle the is synonymous to African women and beauty.
Miss West Africa International will stand as the first pageant in Africa, and also the first international pageant, of which all girls will be requested to wear their natural African hair. With the exception of braids, no regional queen will be permitted to wear extensions or weaves.
The event organized by D Sinatra Ents. will see a range of African beauty from cane rolls, to afros, to braids, and in some cases bald heads. Blended with amazing cultural, evening and swimwear. Camping for the beautiful queens begin on the 14th of December in the Delta state, and the main event takes place on the 21st of December at the Swiss Spirit Hotel, Delta State Nigeria.