Nollywood Actor, Charles Awurum Boasts About His Status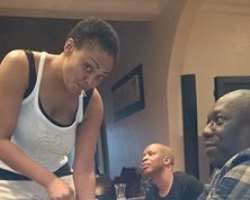 Charles Awurum is one of the highly rated comic-actors in the Nigerian movie industry. But the question is, can he be ever serious in whatever he is doing? His comic attitude makes many to wonder if he easily gets angry as he is seen laughing over everything that happens.
The actor was at the resident of Nigeria's football hero, Austin Jay Jay Okocha along with fellow actor, Saka, but when it was time for food to be served, Okocha's wife, Nkechi, brought water for him to wash his hands.
Being an Igbo lady with good upbringing, the lady had to hold the bowl for him while she pours water on his hands for him to wash.
Charles, who could not hold back his happiness, bragged that he has been prophesying that he is a big man but people do not believe him and now he has an evidence to prove.
"Una see am, i tell una sey God don bless me, una no gree, Nkechi, JJ Okocha 's wife serving me. I be Bigman," he boasts.