Emmanuel Udom wins A'Ibom gov primary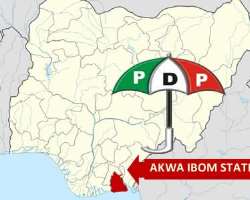 The immediate past Secretary to Akwa Ibom State Government, Mr. Udom Emmanuel, has won the People's Democratic Party primary election in the state.
The result, as announced by the Chairman, PDP Governorship Electoral Panel, Akwa Ibom, Mr. Bola Oyebowale, declared that Emmanuel polled 1,201 votes to emerge the winner.
Another aspirant, Okpolupm Etteh got 38 votes; Helen Esuene, 12; Effiong Abia, 4; Nsima Ekere, 4; Larry Esin, 2; Benjamin Okoko, 1, and Isangedighi Jerome, 1.
Meanwhile, 22 members of Forum of Akwa Ibom State PDP Governorship Aspirants, boycotted the primary.
A statement by the 22 aspirants in Uyo on Monday, read, 'We note the multiplicity of the lists of purportedly elected delegates in Akwa Ibom State freely published in the various news media.
'Notably is the first list that emanated from Akwa Ibom Consolidation Alliance and signed by Obong Paul Ekpo, the state chairman of PDP which was denounced by both the Akwa Ibom State Government and the State Chairman of PDP, Obong Paul Ekpo, claiming same to be fake.
'Ironically, the list that was earlier denied is the same list that is used in inviting delegates to this Congress as announced on Akwa Ibom Broadcasting Corporation.
'Recently another list emerged carrying the imprimatur of the National Organising Secretary of PDP and which list is totally at variance with both the lists earlier signed by the state chairman, PDP and the one announced on radio this morning inviting delegates to this congress.'
The forum maintained that all the lists were contrived in that no ward congresses took place in any of the wards in the state to their knowledge, and that of the National Headquarters of the party.
They stated that despite the plethora of lists, there was no accreditation of delegates by the electoral panel to certify the individuals allegedly being trafficked in heavily guarded buses to the venue of the congress from the Government Houses, Uyo.
'It should also be noted that the purported delegates from the entire state were invited to the Government House where they were addressed, threatened, intimidated and induced with the sum of N1m each to ensure compliance by voting for the governor's preferred aspirant, Mr. Udom Gabriel Emmanuel,' the statement read.