NFF returns N510m World Cup money to govt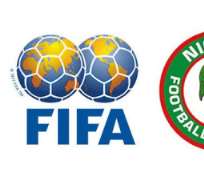 Amidst the stormy  weather in Nigerian football, the Amaju Pinnick-led Nigeria Football Federation, NFF, would score yet another goal in transparency and accountability today, when they return a whooping $3 million(N510 million) to Government.
The money is part of the appearance fee of the Super Eagles to the World Cup in Brazil which the Federal Government paid for the team to play their second round match of the World Cup against France.
The Eagles had boycotted training and threatened not to play the match against France if the allowance from the FIFA largesse was not paid. As at the World Cup, FIFA had not paid the money but the team held Nigeria to the jugular before President Goodluck Jonathan fell to their blackmail and, through Sports Minister Tammy Danagogo, sent the money in a chartered aircraft to Brazil to the team. Unfortunately, the team concentrated more in sharing the money than the match at hand. The sharing was on till 3 to 4 am on the same day they had a 5 pm match. They lost to France 2 - 0 at the Estardo Nacional in Brasilia to exit the World Cup. The players were so fatigued and paid the price.
That was the beginning of a new phase of crisis in Nigerian football.  There had been fears and speculations that when FIFA   finally pays the money, the $3 million released by Government might develop wings.
But Sports Vanguard gathered authoritatively that NFF would return the money to the Government in what many observers have termed a rare show of transparency and accountability. Secretary-General of the federation Musa Amadu said last week that the federation would return the money to the Federal Government. The board confirmed last night that this will be done this week.
The Pinnick-led Board had been weathering a lot of storm since after being elected in Warri.
One of their recent laudable efforts was sending 11 Nigerian elite referees to the Premier League in the UK to enhance their capacity and to be able to improve the lot of football on the Nigerian domestic scene. Vanguard