Tonto Dikeh Splashes Scholarships On 2 Ghanaian Kids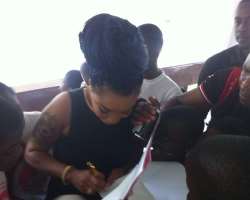 It was a nice attempt for some Nigerian celebrities to have gone into politics all in an attempt to bring the much needed change for the country though as a collective effort at heart. But the shocking observation by Nollywoodgists.com is that how come these celebrities are loosing to the chieftain of the parties they belong to.
This week has actually been a sad one for some promising celebs who have spent most of their time trying to prove their worth to both their political party and to their fans. As the All Progressive Party (APC) concluded their Lagos state primaries for the flag bearers for the various senatorial constituencies, it was seen as a family business as some of the key players in the party had groomed their children for some positions which is beginning to manifest.
After spending money and time to campaign just to prove her credibility, Nigeria's female gospel singer, Kenny Saint Best, lost out in her bid to represent the Ikeja 01 Constituency to Folajimi Mohammed, son of APC chieftain and National Publicity Secretary, Lai Mohammed.
As if that was not enough, Dayo 'D1' Adeneye, lost the APC Primary election to Ogun state Governor Ibikunle Amosu's former Special Adviser on Education for the Odogbolu House of Assembly ticket.Another game of man-know-man.
With this paradigm shift in the political arena, fears begin to grip other contesting celebrities as they are yet to know their faith as soon as the primaries emerges in some months time.