Man In Trouble For Killing Gay Partner In Abuja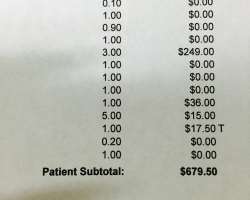 US-based Nigerian -Cameroonian singer, Dencia, after trying her hands in music and cosmetics which brought into existence the famous 'whithenlicious cream' the singer is about to try her hands on something new after spending a fortune on maintenance.
Dencia revealed that she will have to go to Vetenary School to learn more as she keeps investing heavily on her dog's tooth.
She complained that the amount charged on cleaning her tooth is also expensive all in one year and an investment which she has been doing for about five years now.
According to her, "Cleaning my teeth cost less than $300 (4times a yr), cleaning diva's teeth twice a year= $1400? Na I need a new Vet Cuz this vet is doing the most or is that what all vets charge in California? Na I've tried 5yrs & counting.. Ugh u could take ur pet to her for a simple $0 problem & your bill comes up to $400 minimum. #Pet Owner Problems #I Am going To Vet School."