Sarz Finally Plays Down Rumour Of Beef With Wizkid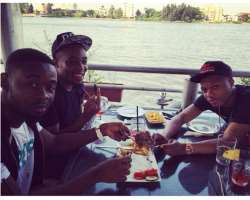 Nigerian entertainers sure know how to pull stunts on social media just to get media attention at all cost. Some weeks back, fast-rising music producer, Sarz, announced that he no longer works with Wizkid because 'he no more has his time again'.
He then disclosed that Wizkid will have to beg him (Sarz) to make beats for him (Wizkid) because what the singer allegedly did to him was very painful. When reminded by a fan that he (Sarz) produced a duet Wizkid had with 2Face, the producer noted that 2Baba begged him for the job.
He then wrote, "No LooL…i don't have his (Wizkid) time anymore," was his response when asked, "Do you still produce beats for Wizkid?"
"Buh u produced his hennesy artistery song?" one of his fans reminded him, but he replied, "Because 2baba begged me."
When another asked, "buh sarz n wiz dey always flow oh....wat did wiz do to you?" he then disclosed that, "Hmmmm so much LoL.. can't say it all," boasting that, "he (Wizkid) will have to beg me cos it was painful."
But Nollywoodgists.com then contacted his manager regarding his tweets, we were told that there was no problem between them.
Not too long ago, a photograph of Sarz and Wizkid having timeout together surfaced on the internet, which we believed was to play down the beef rumour as being reported in some sections.
"Real G's BEEF all day! Everyday!! "Beef Track! Next week Monday! Another one produced by Sarz plus one new video," the producer tweeted.