Nyanya bombing: Police washes hands off Ogwuche's failed trial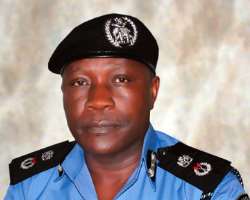 The Police have denied involvement in the dismissal of the terrorism charges against Nyanya blast mastermind, Aminu Ogwuche, saying they had no hand in his prosecution at the Federal High Court, Abuja.
The Force stated that it merely assisted the Department of State Services with the legal procedure for Ogwuche's extradition from Sudan because filed charge(s) against a fugitive must be appended to documents in support of extradition request made to the host country.
The Police further explained that the filing of charges against the suspect is a legal procedure to enable the Nigeria Police formally request the Sudanese authorities to grant Nigeria's extradition request in respect of the suspected fugitive.
The terrorism charges against the terror suspect was discharged for lack of diligent prosecution by the court on Monday and this had generated a gale of criticism against the Police and the DSS, which investigated and indicted Ogwuche for the blast which killed over 70 people and injured others.
But the Force in a statement by it's Public Relations Officer, Emmanuel Ojukwu, on Thursday in Abuja, stated that the prosecution of the suspect was solely handled by the DSS.
The Force described as misleading, reports that the Police and the DSS bungled the case, stressing that it could not have prosecuted Ogwuche as it was not involved in his investigation, and arrest and never had him in its custody.
Following Ogwuche's extradition, the Police said the DSS obtained a Court order to remand him for an initial period of three months in line with the Prevention of Terrorism Act and also liaised with the Office of the Attorney-General of the Federation to undertake his prosecution.
The statement read, 'It will  be recalled that the Department of State Security, that had intelligence on the Nyanya bombing and was investigating it, made a formal request to the Nigeria Police to assist in extraditing one Aminu Sadiq Ogwuche to Nigeria from Sudan, through the Interpol channel of which the Nigeria Police is well versed.
'It was at this stage and for this reason that the Nigeria Police Force filed charges against the suspected fugitive, based on information that he fled to Sudan.
'These facts were made known to the court when it insisted on the production of the accused even before his extradition to Nigeria.
'For the record, at no time did the Nigeria Police arraign the suspect in court for terrorism related offences. Moreover, the purported prosecution/arraignment by the Police could not have happened as the Police could not prosecute a suspect it never arrested, never investigated nor had in its custody.'
The Force said it was committed to ridding the nation of violent crimes like terrorism, adding that many of its officers had paid the supreme sacrifice on account of this.