Scaling Of Nass Gate: Another Gobbellian Lie By Rivers PDP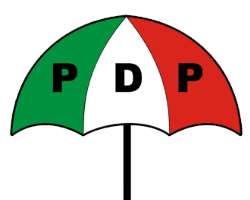 Ordinarily, the All Progressives Congress (APC) in Rivers State would have stuck to its avowed decision to resist being drawn into pedestrian and very lowly propaganda of the beleaguered and embattled Rivers State Chapter of the Peoples Democratic Party (PDP) but the need to protect unsuspecting Rivers people from the deceitful machinations of the Felix-Obuah led PDP house of commotion makes a response expedient at this time.

We would like to state, for the umpteenth time, that whereas we wholeheartedly support the courage, bravery and forthrightness displayed by the Honourable Members of the House of Representatives in confronting and defeating impunity last Thursday, at no time did any member of the House of Representatives from Rivers State scale the gate of the National Assembly.
Indeed, Dr. Dakuku Peterside, a member representing the people of Andoni/Opobo/Nkoro Federal Constituency and one of the leaders of our great party did not scale the gate as the CAVEMEN & BUCCANEERS of Rivers PDP circulated in their crass, puerile and mischievous press release to the public. We are not surprised; we know they are constrained to always display, function and operate within and around their base life station.

It must be stated that whereas some members of the House of Representatives were forced to scale the National Assembly Main Gate to confront impunity, it is obvious that just a few members did that and none was from Rivers State. There are photo and video clip pieces of evidence of the few who did so; none came from our dear state. Again, there is no evidence that the Honourable Speaker, Hon. Aminu Tambuwal scaled the gate of the National Assembly; there is no truth or evidence that either the majority of the members of the House of Representatives or any member of the House from Rivers State scaled the gate of the National Assembly.

The PDP in Rivers State should concentrate on confronting the huge problems aiming to sink a final death nail in its coffin of existence than resorting to infantile propaganda that passed away with the early 20th Century when Josef Goebbels and the Third Reich infamy held sway in Germany.


The APC will like to state that Senators, House of Representatives and State Assembly members, and indeed, all members of the APC in Rivers State will continue to exhibit high standard in morals and behaviour both in their private and public engagements/activities at all times. This we will assure Rivers people and Nigerians.



Chris Finebone
State Publicity Secretary

Saturday, 22nd November, 2014.