Chime on 2015: I've no personal squabbles with anybody; we simply want proper thing done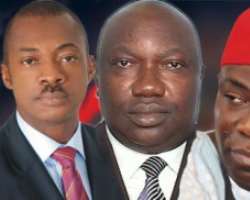 Of late, the Enugu State chapter of the Peoples Democratic Party (PDP) has been embroiled in sundry controversies which are threatening the cohesion of the party as the 2015 general elections draw nearer. The current face-off is traceable to the November 1, 2014, ward congress during which the materials meant for the exercise in the state were said to have been deposited at the Wuse Police Station following disagreements by the five-man panel on how to conduct it.
The conflict is that there are now claims in some quarters that the congress held. In the face of the raging crisis, Governor Sullivan Iheanacho Chime addressed an enlarged stakeholders meeting on Tuesday,, at the old Governor's Lodge during which he spoke on a wide range of issues, stating emphatically that PDP remains the party to beat in the coming polls.
We've challenges but PDP will triumph
We've assembled here today (November 18) because we're one big, happy family called PDP. For sometimes now, PDP Enugu state has had some challenges. Well, we had similar challenges in 2010/2011 and now that elections are getting closer, such distractions are to be expected. The good thing is that it's all within our party because anyone who wants to achieve his or her political ambition comes to the PDP.
As you all know, we've always triumphed because we have disciplined party members. It's those of you here who elected all of us that made the party to become great. The elections are almost here but from the presidential poll to the House of Assembly election, PDP will come out tops in our state.
No godfather syndrome here
What guides us in Enugu State is that we've long abandoned the issue of godfatherism, no imposing of candidates on our people. It's their right to choose their leaders. We have always, through wide consultation, chosen our flag bearers during elections. We've always agreed not to oppress anybody, we see ourselves as equal because we hold the positions we occupy today in trust for our people.
We have conducted four local government elections and all our (PDP) chairmanship candidates were returned unopposed in the last polls. This was possible because we consulted widely before the people chose their candidates. I didn't sit at the Governor's Lodge to hand-pick the chairmanship candidates, the stakeholders from the distinct local government councils did.
The root of the current conflict
We're having similar challenges today like it happened in 2010/2011 because some of our brothers and sisters (in the National Assembly) now want to go contrary to the agreements we had earlier (on zoning and distribution of elective positions). It's quite lamentable that today, their thinking is that they will split the party if they don't succeed but with the overwhelming support of our people, such plots will fail.
We've not stopped anybody from aspiring to any position but we're saying that if you must use the PDP vehicle, you must comply with our party's directives. Power comes from God.
You are all witnesses to the unwarranted attacks on me in the media and through other platforms orchestrated by some of my brothers but that will not change my ways. We have a fully refurbished and digitized ESBS (Enugu State Broadcasting Service) with radio and television arms with such a very wide reach but we will never use it against our people. I was not elected to fight our people but to give services, to develop our state and to better the lives of our people.
In the face of these attacks and unnecessary provocation from these our brothers and sisters, all I have for them are prayers, prayers for their well-being and prayers for them to come back to the family. If they love our people and are willing to work for the re-election of our dear President and our others candidates, they should come back so that we sit down to chart the way forward.
I've no personal squabbles with anybody
I want to make it explicitly clear that I have no personal squabbles with anybody. The disagreement is people not respecting agreements earlier reached. It's a thing of regret that few persons are descending to this level where they want to pull strings and cause disaffection just to have their ways. But I want to reassure our people that I'll do everything to sustain the peace we've had in our state these past seven years.
The truth is that if you serve our people well, they will ask you to come back. Like I said, you don't need to pull strings, to try to shortchange the people and the system. We are used to having proper congresses where our people meet and decide on the path they want to follow.
The idea to write names compiled a day earlier or to stay in one room to write names and purport them to be duly elected delegates is alien to Enugu PDP and is, therefore, unacceptable to us. Like you've all massively demonstrated now, it's your collective decision that the proper thing must be done. I want to assure all of you gathered here and even those not here that I'll take this decision to anywhere and any forum so that the world can hear your voices.
If you leave PDP, you've retired from politics
Our desire is that no matter the differences, we must always bear in mind the collective interest of our party. We're saying that if anybody leaves PDP, he or she is retiring himself or herself from politics. We also want to make it clear that anybody who is working against the interest of our party (PDP) from within or from outside, is carving a way out of the party.
Let the message go out from here that our spirit is strong and we're committed to the continued growth of our party. The rally we had for the re-election of Mr. President called Enugu State Movement for the re-election of President Jonathan (EMJ) was unprecedented and you people made it possible. We will repeat such feats during the coming elections.
After going through the primaries and we have our candidates, we will begin our rallies like we've always done in our unique ways. Those who are fighting against our people, who want to oppress us, won't be able to hold successful rallies because our people are not with them.
We heard all sorts of unfounded rumours but we want to thank our people for remaining steadfast, for remaining firm behind PDP.
I'm enthusiastic to hand over in six months
Like you all know, we have our consensus governorship candidate (Hon. Ifeanyi Ugwuanyi). It's something that our party encourages in order to eschew rancour. It's also entrenched in our party's constitution.  So, in the next six months, I'll step down from office and at the appropriate time, I will go round to thank our people for giving me the opportunity to serve, to touch the lives of people. I'll continue to be with my people.
I will continue to sue for peace. No matter what it takes, I want to have everybody back under our big umbrella. We appeal for their understanding because I don't want to hand over a factionalized party to my successor. Vanguard