I'm Not Happy With My Brother's Alleged RApe Scandal—Stephanie Okereke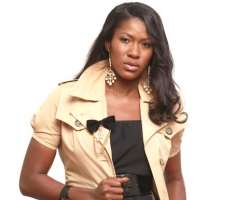 Have you imagined the creation of man without a woman and even if the woman is going to be involved, has anyone imagined the creation of women in the same vein with men who would only be marketing their muscles and packs? Well, thanks to our Nollywood stars "women" who are actually using that which is God's given physical features for strategic earnings.
Nollywood actress, Tope Oshoba, who is an A-list act, has disclosed that her being into acting was more of luck which began while she was doing a cultural dance drama titled 'Ijoya' in 2005.
The talented act who has featured in various movies, revealed that her God given well shaped cleavages have really helped her in getting lead roles in movies.
According to her, "I don't reveal a lot of my body, but I do reveal a little cleavage. So, put together, I will say my cleavages and my body fetch me the jobs.