My Husband Understands When I Kiss lips to lips……..Actress, Omoni Oboli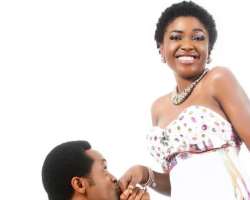 Nollywood actress, producer, writer and director, Omoni Oboli, has advised that actors and fans needs to be educated about how kisses are being done in movies so as to erase that perception that some set of people likes kissing in movies.
Omoni while responding to a questions from popular TV programme, 'Your Views' monitored by Nollywoodgists.com, about her kissing ability in movies, the actress stated that she does romantic scenes but will never act in explicit movies, adding that she kisses in movies but not tongue kissing.
She explained that there are ways kisses can be done lips to lips without the tongue coming out and it will look like the best kiss in the world.
According to her, "I do romantic scenes and I kiss another man but not tongue kissing and my husband understands that part. This is what people need to learn that you can do that and it will look like the best kiss in the world."
Speaking on how she has been able to sustain her home along with acting, the actress noted that it's all about having a good support system in place. She explained that her husband has been very supportive which is why she does not have issues and she has been able to play her role as a wife when necessary.