Clerics raise alarm over alleged beheading of Christians in Adamawa by B'Haram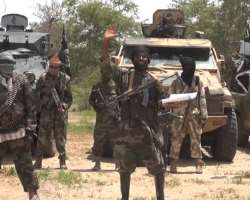 Christian leaders in Adamawa State have expressed worry over an allegation that Christians are being systematically eliminated in the areas occupied by Boko Haram fighters in the state.
The Christian leaders who made this known in a communiqué issued at the end of a one day meeting held at Bishop Shehaan Pastoral Centre in Yola, the state capital, on Tuesday, condemned  the recent takeover of six local government areas of Madagali, Michika, Mubi North, Mubi South and parts of Hong by the Islamic extremists.
In the communiqué, which was read by the Archbishop of the LCCN, Most Rev. Dr. Nemuel Babba, the leaders alleged that from reports they had gathered from people in the occupied territories,  the militants slaughtered Christian parents an brothers in the presence of their wives and children.
'We reject in strong terms insinuations from certain quarters that the insurgents are mere bunch of trigger-happy miscreants, whose intentions are to settle certain scores with the government, owing to the towering revelations of attacks mostly targeted at Christians," he said.