Write, Submit and Win: Carmudi Supports 'The Young & Cerebral Essay Competition 2014'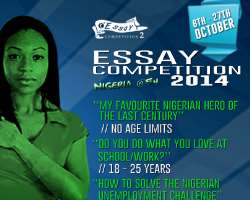 Top youth radio show 'The Young and Cerebral' hosts essay competition. The radio show which focuses on celebrating young and intellectual Nigerians unveils this year's edition of 'The Young and Cerebral Essay Competition' to celebrate Nigeria's 54th Independence anniversary.
Organizer of the essay competition and presenter of the Young and Cerebral Adewumi Oshodi Tapa talked about the reasoning behind the essay competition. She said, "I always wanted to have a means of rewarding and acknowledge the younger generations that are making an impact in our society. I have had a lot of intellectuals and entrepreneurs on my show but I also realize that there is a greater percentage of youths and teens out there that have a lot to offer. That is why I decided to have this competition every year and reward the participants and winners with prizes such as laptops, smart phones, tablets and so much more."
Speaking on the reason behind sponsoring the essay competition, Managing Director Carmudi Nigeria, Christian Keller said, "We realize the importance of rewarding hard work and creative minds and are always on the lookout for opportunities like this. We followed the trend this competition created last year and the positive impact it had on the individuals who participated and thus decided to be part of that positive energy this year."
This year, the essay is open to the youths and teenagers on the following topics; 'My favorite Nigerian Hero' and 'How to solve the Nigerian unemployment challenge' which is in fact open to discussion amongst the general public. Adewumi said that that the competition will run throughout November and the winners will be announced by categories on November 30th.
To apply, send your entries to [email protected] in MS word format. For more information, click here.
Vivian Iweha
Public Relations Manager
10151317 768882503176310 5240445961750738870 N