Regina Askia Volunteers To Take Care Of Ebola Patients In New York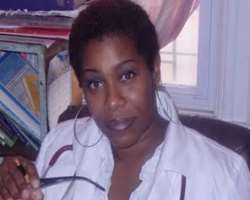 Ace Nollywood actress/ beauty queen who is now a nurse, Regina Askia has made a brave and touching move to work at a US Ebola Center. The actress who works at a hospital in New York was asked to look for volunteers to work at the center, but on a second thought, the mother of three decided to join the train as a volunteer .
Despite the fears that come with knowing the virus is close by, the actress cum nurse still didn't mind and decided to serve the people.
She said at first, there was no female that volunteered to join the force, nevertheless she made the move. Here was what she said "My job was looking for Nurses to volunteer for the Ebola center which was moved from our building to another location. My male colleagues said they would do it for 200 dollars per hour, C'mon Regina , gotta get on the team...they said. I was not smiling (I am captain of my 3 kid team). Not one female nurse volunteered (lol)"
She continued "We ALL had to demonstrate proper use of PPE equipment and be proficient with the Ebola protocol. I was full of thoughts as I watched the display, hoods, masks, gowns, boots....almost like a nightmare. Home news had it that Nigerians washed their hands, didn't hug as much, monitored their temps and on the first signs of malaise drank the ORT (oral rehydration therapy) until symptoms passed. Were we once again trying to kill mosquitoes with bazookas? I wasn't going to wait to find out. In a daze I got with the program to become "an Ebola ready Nurse". More power to all the nurses on the grind – Goodluck" she said.
© 2014 Nollywoodgists.com
Click the link below to go to...
Ini Edo Removes Husband's Name From Her Twitter Handle
I Was A Good Smoker and Wore Fake Eyelashes-Clarion Chwukura
Tonto Dikeh Facing The 'Agony' of A Tomatoe Seller
Shocking Endorsement Record Deal About P-square
ORITSEJAFOR'S RELATIONSHIP WITH ASARI-DOKUBO QUESTIONED
Stop Criticising Entertainers In Politics- Bob Manuel Udokwu Warns
Pastor Allegedly Impregnates Member
Psquare Recognizes & Crown The Dogg "The leading light of Namibian music industry"