2015: PDP gives Jonathan, others 7-day ultimatum to purchase nomination forms …no extension of Oct 30 deadline, says Metuh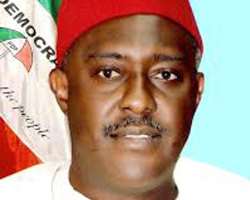 The Peoples Democratic Party (PDP) National Working Committee (NWC) rose from a meeting Wednesday in Abuja declaring that President Goodluck Jonathan and other persons wishing to contest the 2015 polls on the ticket of the party had just a week within which to buy the party's nomination form.
He said the party has resolved not to extend the October 30, 2014 deadline for purchase and return of nomination forms for all elective positions. 
Briefing journalists shortly after the NWC meeting at the PDP national secretariat yesterday, the National Publicity Secretary, Olisa Metuh said that the adoption of Jonathan as the PDP sole candidate by its National Executive Committee (NEC) last month did not exclude the President from buying nomination form.
According to Metuh, there was no way anybody could be adopted as Presidential candidate during the December 6, 2014 national convention without having formally purchased a nomination form to that effect.
Metuh explained further that the decision of NEC that adopted Jonathan as sole candidate was subject to the approval of the convention.
He said: 'The Constitution of the party stipulates that there will be a national convention where decisions or memos from the  National executives will either be approved rejected   and there is no way that you can go to a presidential election and say you are adopting or electing someone who has not bought form.
The October 30 deadline  for purchase of forms will not be extended and it is applicable to all candidates.'
Metuh also declared that the PDP was not aware of any attempt by any person or group of persons to purchase nomination form for Jonathan.
According to Metuh, President Jonathan had not even declared that he was interested in contesting the 2015 presidential election.
On the granting of waivers, Metuh said: 'Today, the National Working Committee has granted unconditional waivers to all returning and new members of the party who seek to participate in the Ward Delegate Primaries. Because it is an ad- hoc primaries, the NWC wishes to clarify that there is no requirement for party members to write to ward chairmen or local government chairmen for waivers. All party members, new, and returning members are free to participate in the ward delegate congress.
'The NWC wishes to inform all our party members that the conduct of the primaries and the convention will be open and transparent, we will not tolerate any attempt to influence or interfere in that process. Nobody will be selected. Nobody will be adopted, No consensus. it will be an open and transparent primaries at all level.
'Waiver has been granted to all those who want to be delegates but for all those who want to be in the House of Assembly, Senate, House of Representatives, Governorship, they will go through our process by applying for waivers.
He announced that: 'Today, the NWC has granted a lot of waivers but because of the fact that more are going to apply tomorrow, we have not released it. After tomorrow, we will release the names of those who have been granted waiver to run or contest for the positions.
Metuh further explained that ' the requirement for waiver does not apply to people who are board members or board chairmen occupying such committee positions.' . - Guardian.