Joseph Benjamin Solicits Votes For Desmond Elliot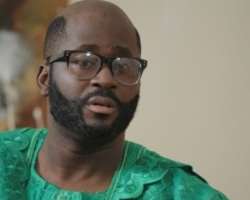 Joseph Benjamin is unarguably one of the most attractive faces in Nollywood. He has charmed his way into the hearts of many with his good looks and great acting skills, making him one of the most sought after actors of his time.
The co-host of music talent hunt show, MTN Project Fame West Africa, is reaching out to millions of his fans in Nigeria to vote for his 'trusted' colleague, Desmond Elliot, who wants a place in the Lagos State House of Assembly under the umbrella of the All Progressives Congress (APC).
Joseph shared Desmond Elliot's political campaign poster on his Instagram page with the caption,
"#BeTheChangeyouwant Let's support him guys. He is representing us youths, not some 58yr old man who is totally clueless about the plights of the people. He seats pot bellied in the comfort of his mansion, enriching his coffers. The worst of all he then refers to himself as a youth, and constantly plays on the emotions of the people, knowing how gullible we can be mschewww. I am not a politician neither am I biased towards them. When I see someone stand for a good cause, I will support it."
© 2014 Nollywoodgists.com
Click the link below to go to...
Breaking News: So Shocking, Plane Crash In Lagos [Picture]
Dead Amongst D Dead... Aircraft Carrying Agagu's Body Crashes In Lagos, Killing Atleast 9
Video Of Crashed Plane Carrying Agagu's Remains
PHOTONEWS: Plane Crash In Lagos, Agagu's Casket Remains Intact
PLANE CRASHED UPDATES: LIST OF VICTIMS ON BOARD RELEASED
Lagos Plane Crash: Agagu's Remains Recovered [Pictures]
Plane Crash: Star Actress, Stephanie Okereke Sends Her Condolences