Nigerian Musicians Sunny Neji And 2face Idibia Release Timely Songs Stating: 'Wash Your Hands'!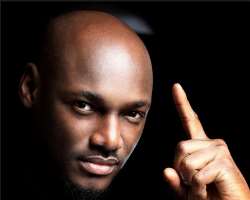 Two of Nigeria's most eminent music artists have joined together to spread the message of washing hands with soap and water to stop the spread of disease. Each year 1 in 5 children die of diarrhoea in Nigeria but half of these deaths could be prevented simply by washing hands with soap and water. The new songs by Sunny Neji and 2face Idibia have been released to coincide with Global Handwashing Day on Wednesday 15th October 2014.
Carex Hand Wash Soap is the campaign's lead sponsor and adds Nigeria to the growing list of African countries in which it has led hygiene promotion activities in recent years. To reinforce the simple and life-saving message and help secure genuine behaviour change, Etisalat Nigeria - the campaign's communication partner, will deliver a series of SMS messages to peopleacross Nigeria to highlight the importance of hand washing with soap at critical times. It will also be possible to download the campaign theme songs as phone ringtones.

Concern Universal Nigeria is co-ordinating this creative campaign that will run for a month, with special events and musical performances, text messages and media coverage and will involve thousands of school children who will become 'hygiene heroes' for their schools, families, and communities. It forms part of a wider five-year initiative that Concern Universal is implementing - Rural Sanitation & Hygiene Promotion in Nigeria (RUSHPIN) - that aims to empower millions of people living in rural communities in the country's South-East to sustainably improve their sanitation and hygiene practices. Although funded by the UN's Global Sanitation Fund, unlike most donor interventions, the Government of Nigeria is the driving force behind the RUSHPIN initiative and has committed to matching the UN's funds at the national and regional level.

The campaign culminates in a week-long celebration that starts on 15th October, Global Handwashing Day itself, at an event in Bekwarra, Cross River State, featuring an exclusive performance by local hero Sunny Neji, and ends on 22nd October at an event in Logo, Benue State, featuring MTV Europe award-winner 2face Idibia performing in his home region. The celebrations, hosted by Concern Universal and Carex Hand Wash Soap, will spread awareness of handwashing with soap by empowering children to become 'hygiene heroes' - vehicles of change in their schools, families and communities. Each event will feature over 500 children from 25 schools in rural communities taking part in creative hygiene promotion activities and, inspired by the songs written by their heroes, will perform their own handwashing songs and win prizes.

The songs and videos by Sunny Neji & 2face Idibia have been produced especially for the campaign and these famous sons of Cross River and Benue States will be explaining what inspired them to write and record their own songs about hand washing in media interviews during the celebrations. These can be accessed at Concern Universal Nigeria's YouTube channel: http://www.youtube.com/channel/UCkfOo_sqbk5YnBdy9ShIZkw.

Latest campaign updates can be found at the Concern Universal Nigeria's facebook page where 'hygiene heroes' from around the world are already submitting their own videos with the hashtag #WashYourHandsO: https://www.facebook.com/pages/Concern-Universal-NIGERIA.

Global Handwashing Day is a worldwide celebration involving over 200 million people coming together on one day each year to promote a simple and life-saving message. This year, Nigeria promises to host one of the largest and most creative celebrations of the Day ever seen and with people across Nigeria, Africa and the world singing 'wash your hands o' on 15th October!

For more information please contact:

Tim Kellow
Country Director
Concern Universal, Nigeria
Calabar, Cross River State
Tel: +234 (0) 802 817 3255
Email: [email protected]