Jonathan splashes over N300m on athletes, officials President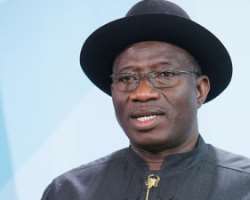 Goodluck Jonathan on Wednesday splashed over N300 million on athletes and their officials who made the country proud at different international competitions in 2014.
Jonathan announced the cash rewards at a reception in honour of the 351 sports men and women at the Banquet Hall of the Presidential Villa, Abuja.
Among the athletes were those who participated in the African Senior Athletics Championships in Marrakech, Morocco, and the Commonwealth Games in Glasgow, Scotland.
Others were participants in the African Youth Games in Gaborone, Botswana; the World Junior Athletics Championships in Oregon, USA, and the 2014 FIFA Female U-20 Football World Cup in Montreal, Canada.
The list included athletes in the Partille World Handball Youth Championships, in Sweden; the World Powerlifting championships in Dubai, United Arab Emirates, and the African Shooting Championship in Cairo, Egypt.
Also in the list were participants in the African Senior Wrestling Championship and the African Junior Wrestling Championship.
In a remark, Jonathan reassured Nigerians that his administration was determined to ensure that all sectors of national life were given the necessary motivation to achieve set goals.
Jonathan gave the assurance while hosting the country's athletics and officials who emerged victorious at different international competitions in 2014 He noted that the athletes' achievements attested to the fact that with adequate preparation and motivation, Nigerians could surmount all obstacles to attain set goals.
According to him, government will continue to appreciate and reward excellence to serve as inspiration to those who are called to represent the country.
While savouring the achievements of the athletes, the president recalled that the journey to the present was not easy.
'Realising the significance of sports in national transformation, I took the decision to organise a retreat for the sports sector in 2012.
'This arose from my conviction that our outing at the 2012 Olympic Games did not represent full potential.
'Of course, if you look at the continent of Africa, we have the largest population; we are highest in terms of diversity and our economy is also the largest.
'In any competition in Africa, third position is not good enough for us because in all the other parameters we are never third.
'I am happy to note that things have progressively changed for the better since that retreat,' he said.
Jonathan commended that National Sports Commission for the 'dedicated implementation' of the decisions taken at that retreat.
The president noted that the exploits of the athletes had gone a long way in further boosting the country's image in the comity of nations.
He added that their zeal and dedication were remarkable and Nigeria's flag was raised high to the delight and glory of all citizens. (NAN)