MADUMERE CAN NOT STOP WINNING!
IMO STATE CARNIVAL 2014; ANALYZING THE EARLY SIGNS ON A MAN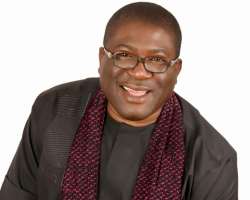 Call him a "Champion or Mr. Achiever, never say die, number one etc... He has every bit of them in him. It takes the mouth to cough, as it takes the right man to succeed. Prince Eze Madumere, the Imo state Deputy Governor, is gradually and tip-toeingly erecting a winning toga over his personality (political) just since after playing a vital role with his boss to achieve the great feat of 2011, he has been on the rise, climbing from one stage to the other, amidst the thorns and human obstacles he continues to overcome, surprisingly without fighting!
The Imo carnival may have come and gone though not without leaving behind a clairvoyance message for the discerning Imo populace to dissect its interpretation. Oh yes! It may have been just a funfair, radiating joy and creating like never before a time-out for Imo workers to unwind under an electrifying dazzling atmosphere of competitive conundrum, but deep inside, it displayed preparedness, character, foresight, creativity, social inclination, common understanding and a team-playing spirit in the leadership of the participating teams. All ministries, sectors and organs of the Imo state Government were ably represented dissipating their full strengths, but it took the strength in character, understanding and a foresighted readily preparedness of one man, a true leader and an epitome of success machination for his team to sweep all the laurels of the day's event.
Prince Eze Madumere is a man self preparatory in character, doing the right things in advance, clearly understanding its usefulness in the future. His leadership shines and covers all social standings, not minding class, age or tribe. And all these was brought to fore on the day of the carnival. He needn't go far to find success; success was always with him! The office of the Deputy Governor is a collection of the best, gifted, talented Men, Women, and Youths who have been giving an opportunity by His Excellency Prince Eze Madumere to apply their potentials for the good of Imo, for sure his boss, the Executive Governor of Imo state, His Excellency Owelle Anayo Okorocha, would be pleased with him. It is given of every man to reproduce, and Madumere is doing just that, and qualitatively too.
Ensuring victory for the Deputy Governor's team was a combination of youthful social experience and elderly impute of wisdom and corrections cum great support coming from the "Oga" himself, His Excellency Prince Eze Madumere. Spearheading were the likes of Yellow Mouth, a youthful entertainment maestro together with the sultry Linda Chikere an ace broadcaster, a woman who gives that touch of gold to anything she decides to do; not forgetting also the vigilant microscopic goggles of the Deputy Governor's media engine, Uche Onwuchekwa, and a whole lot of others, the Director Accounts, the P.S, they really are countless. Importantly everyone came together as a team, inspired by the Deputy Governor himself.
At the post victory dinner held at the Deputy Governor's lodge for team Deputy Governor's office by His Excellency Prince Eze Madumere. Obviously full of joy and appreciation to a team that made him proud, he showered his own gifts, outside the prize for the winning team, while extolling outstanding features, even as he repeatedly ensured to make this team (staffs of his Office) indivisible, stronger and better prepared for tomorrows assignment, what better way to define a result-oriented leadership?
Apparently the signs on ground only reveal the strong force behind the steady political growth of the Imo state Deputy Governor. Tomorrow is bright and holds so much for him. Though not thinking so much of himself, but the ideals and mission of his boss, surely someday, like former Head of State, Gen. Jack Yakubu Gowon Stated, Madumere is surely a man for the future, our society needs his type even as he described him as a "man of service and simplicity."
His Excellency, Deputy Governor of Imo State, Prince Eze Madumere MFR ( KSC, FNIM)
IKECHUKWU GILBERT
[email protected]
Reply, Reply All or Forward | More
Click to reply all
Send

Like a boss.