THAILAND PM BEGINS NEGOTIATIONS WITH RED-SHIRTS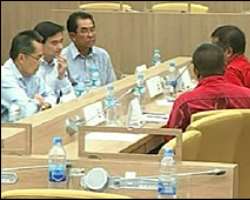 Thai Prime Minister Abhisit Vejjajiva is holding face-to-face talks with leaders of the protesters demanding that he resign and call new elections.
Mr Abhisit's spokesman said he had "accepted the request to negotiate" in an effort to "restore peace and minimise the chance of violence".
The prime minister has consistently said he will not bow to any ultimatums.
Correspondents say the talks are a sign of compromise after two weeks of demonstrations in the capital, Bangkok.
Earlier, four soldiers were injured after grenades were thrown at a heavily-guarded army barracks on the outskirts of the city, which Mr Abhisit has been using as a base.
It is not known who carried out the attack, but the protesters – a loose coalition of left-wing activists and supporters of exiled former Prime Minister Thaksin Shinawatra – were to march there on Sunday.
Neutral venue
Mr Abhisit went on television on Sunday morning to say he was open to negotiations, but insisted he would "not there be there to talk" if the protesters proceeded to march on the barracks.
"It will not be possible under this kind of tense circumstance to hold negotiations," he said. "I still insist that I am open to negotiation as long as there are no threats, hostility or pressure."
Red-shirt leader Nattawut Saikua subsequently delayed the rally, saying he wanted to give the government time to consider an offer of negotiations between small delegations.
Mr Abhisit's spokesman later announced that the government and the protesters had each agreed to send representatives to the talks at a neutral venue.
"In order to restore peace and minimise the chance of violence, the prime minister is ready to accept the request to negotiate with the demonstrators," Satit Wongnongtoey said.
The talks, being held at an education institute in Bangkok, are currently being broadcast live on television at the request of the red-shirt delegation.
"This is not likely to take long because the atmosphere is good. Everyone is acting in good faith for the benefit of the country," said one of the three red-shirt representatives, Weng Tojirakarn.
A previous offer of negotiations through intermediaries was rejected by the Red-Shirts, who say they are sticking to their demand that Mr Abhisit dissolve parliament and hold elections.

The Red-Shirts say they will stay in Bangkok until the government resigns
The BBC's Rachel Harvey in Bangkok says there are still substantial sticking points to be overcome, but after two weeks of stalemate it seems there may now be signs of movement.
The move comes a day after tens of thousands of protesters forced soldiers to move away from several key locations in the capital, where they had been deployed under special security legislation.
On Thursday, Mr Thaksin called for a campaign of "civil disobedience".
The Red-Shirts, formally the United Front for Democracy against Dictatorship, have sought to distance themselves from Mr Thaksin – who lives abroad having fled a two-year jail sentence for a conflict of interest case – painting themselves as fighters for democracy.
They say Mr Abhisit came to power illegitimately in a parliamentary vote after a pro-Thaksin government was forced to step down. Mr Thaksin was ousted as prime minister in a military coup in 2006.