EXCLUSIVE: Emem Isong Weds Secretly Without Informing Family Members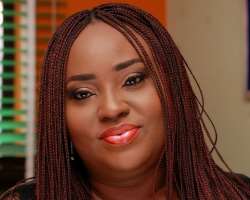 Nollywood Film maker, writer and CEO of Royal Arts Academy, Emem Isong has finally walked down the aisle with a man of her dreams.
The once single mother of a black handsome boy secretly wedded her Cameroonian lover on October 3, 2014.
Liable sources squealed that the Akwa-Ibom state multi talented producer had a secret court wedding without the knowledge or presence of any single member of her family.
Her husband who is from Kumba town in Cameroon, now works with her on some projects she's handling.
It could be recalled that Emem Isong in a recent interview maintained that although she is still in good terms with the father of her son, but the possibilities of typing the nuptials with him was an impossible mission. Truly Emem kept to her words as she later found true love in the arms of a Camerounian.