Okoro, The Prince: Another Epic on the Benin Kingdom is Here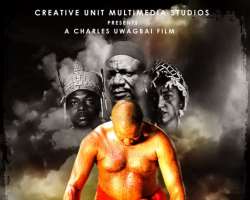 Lancelot Imasuen's critically acclaimed epic "Invasion 1897" is still making headlines in Nigeria and abroad with local and international premieres of the historical film on the bloody punitive Benin Expedition of 1897 and another epic on the Benin Kingdom, "Okoro, the Prince" is ready for world premiere.
The film directed by Charles Uwagbai, one of the upcoming ambitious filmmakers in Nollywood has a cast of accomplished Nigerian actors, including the celebrated Sam Loco Efe of blessed memory, Alex Usifo Omiagbo and Ufuoma Stacey Ejenobo. The associate producer is Christabel Momodu, a former beauty pageant queen and popular multi-lingual model who has graced the covers of the Allure magazine of Vanguard newspapers and for the Etisalat Nigeria Double yor recharge advertising campaign.
If captivating trailers can be used to judge movies, then "Okoro, the Prince" is a must see movie.