Ghanaian actress, Moesha Boduong Reveals Infected Chicken Pocks Body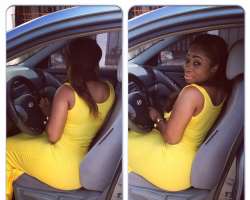 Ghanaian actress, Moesha Boduong, who is set to feature in Big Brother Africa Season 9, has just displayed her body which was infected with chicken pocks.
The actress who is currently on set of a movie directed by Palm Manfo, disclosed that she now feels better with herself after a sudden weakness which was caused by Chicken Pocks.
Interestingly, despite the illness, the curvy actress still took out time to display her shapes on the social media without minding what people would say.
She even wrote on her wall that many a times, friends can't show support to others because they have spoken wrongly about the fellow in private.
Moesha Boduong, a renowned Ghanian actress is set to represent Ghana in Big Brother Africa season 9. With her physical endowment, Moesha is prepared to set the house ablaze as she wows viewers with her looks.