2015 Presidential Election: I am in the race to 'fix' Nigeria – Atiku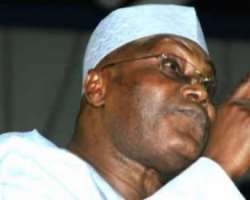 Former Vice President Atiku Abubakar has formerly declared his intention to contest for the 2015 Presidential election on the platform of the All Progressives Congress with an aim to 'fix' Nigeria.
Atiku who announced his desire to fly the party's flag at a ceremony held at the Yar'Adua Centre, Abuja, on Wednesday, explained that he has what it takes to bring people together and turn things around for the better.
According to him, the glaring mismatch between our potentials and our achievements provides a golden opportunity for him to lead Nigerians to rekindle our innovative instinct to turn the Nigerian dream into reality.
'It is inspiring that amidst difficulties and growing anxiety over the future of our country, our people have refused to succumb to despair and hopelessness.
'This never-say-die attitude gives me immense hope and it is one of the reasons why I can never give up on Nigeria.
'As Vice President of Nigeria from 1999 to 2007, I worked closely with my boss, President Olusegun Obasanjo who is a passionate defender of Nigerian unity.
'We focused on macro-economic stability and transforming critical areas such as banking, insurance, oil and gas, telecommunications, pension and the Civil Service.
'We created institutions that should lay the foundation for good governance and accountability such as the Bureau of Public Procurement, the Economic and Financial Crimes Commission, SERVICOM, whose golden rule is 'Serve others as you would like to be served.' Sadly, most of these institutions are now mere shadows of themselves,' he stated.
Atiku said what the Obasanjo administration was able to deliver because it had vision, commitment and dedication. Adding that good leadership is what it takes to make good things happen.
The former Vice President expressed sadness that rather than pay down our debts, our borrowing has been on the increase even at a time the price of oil has consistently been above $100 per barrel since the inception of the Jonathan administration.
Atiku said that, 'Rather than continuing to pay down our debts, our borrowing has actually been increasing even though the price of oil has consistently been above $100 per barrel since the inception of the current administration.'