September 22, 2014

| AMEBO
I Am The Highest Paid MC With N1.5M……….Actress, Toyin Aimakhu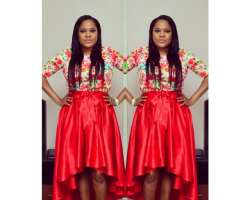 Nollywood actress, Toyin Aimakhu, has revealed that she was recently paid N1.5million to MC a wedding over the weekend.
According to the actress, a friend of hers invited her to anchor her wedding and offer the amount which she declined collecting but was forced to.
Toyin boasted on her social media page that she is the highest paid coordinator of an event. Adding that she used the money to buy expensive gifts and lots of pampers.
"Na me put my pix join am yes she's my sis and girl anytime was the mc and coordinator....I love her so much.. @olabcposh hml. #exclusivediamond #mc #1.5m #highest paid #insisted on paying me #icollect am #buy expensive gift #plenty pampers #lol"
Describing her dressing to the wedding, the actress, admired herself saying that she never knew she was this beautiful, noting that she has a toothpick leg, and dark knees which is not that bad.
"I fine true true #toothpickleg #ydarkkneels #ihavebtntdisbad #darkkneels #iyawoniyi #mrsjohnson #nollywood #nollywoodactress #alakadamama #alakada #12nominations #hotgist #vas2netambassador #hmmm"