Singer, Oritse Femi Reveals Proud Mother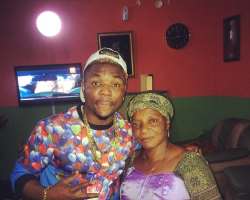 There is an African proverb which says 'a child was mearnt to grow up and come to take care of his parents,' and this has always been the joy of every parents to see their wards grow and succeed in life
Well, wave making singer, oritsefemi, has unveiled his proud mother to the public.
The singer took to his social media page to reveal his mother whom he is so proud of and also describing her as the best mother ever, admitting that she is proud of what he is doing
Recall that the 'Double Wahala' crooner, earlier in the year lost his father and since then, has been trying to cover the vacuum left by his father to make sure that his mum is always happy at all times.
Just within the week, the singer signed a new multimillion naira management deal with Avarta, who will be in charge of his management.