Why do women cheat?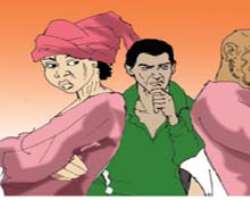 I met my girlfriend when I went home during the six months old ASUU strike. I'm in my final year while my girlfriend is an ND 2 polytechnic student.
I'm 28 while she is 25. When we met, I enquired if she had anyone in her life, to which she replied in the negative.
I gave her my full heart with the intentions of marrying her. Few weeks into our relationship, she warned me never to come to her house without express permission from her. I later found out that she deletes our conversations, my photos and messages from her phone as soon as we are done.
To my pains, I discovered her in relationships with different men. On several occasions, I have had reasons to call her and beg her to desist from her ways but nothing has come out of my efforts to help her mend her ways. In addition to this, is her habit of telling lies. Severally, the other constant man in her life has called to insult me for sharing his girlfriend. When I asked what she planned to do with both of us, she said nothing. According to her, she and the guy agreed to be dating until she weds. She stays in my place in the afternoon and goes to his place in the night; am not comfortable with this.
Is it true, Agatha, that no single lady can date one man?
I'm pained because I'm a God fearing and very responsible man but all the ladies I have met, including the ones I spend so much on, all end up cheating on me.
What do I do because am beginning to see women generally as opportunists?
Uzuazor.
-Dailyindependent
Click the link below to go to...
Pastor Kumuyi's Son Apologizes For Allowing His Wife Wear Sexy Clothes
Ruggedman Blasts Ini Edo, D'Banj Others Over Silence In OJB Jezreel's False Donation Rumour
Pastor's Wife Goes Gaga For BET Awards 2013 And Amber Rose Suffer Wardrobe Malfunction#BETAwardsWorstDress
"I Washed Toilets To Survive In US": A Shocking Confession From Mr. Incredible - M.I
Phyno Confesses: 'M.I and Mr Raw Made Me'
Tunde Ednut Involve In Car Accident In Lagos
Occult: First movie where a female act defeated me –Pete Edochie