Olisa Adibua, Debuts His Online TV Program With Global Worth And Standard Called "THE TRUTH"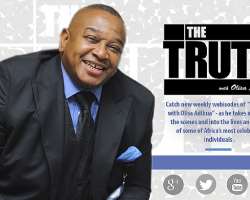 THE TRUTH with Olisa will feature perfect and sincerity refined sit down with celebrities across the globe. The media worldwide has always been a victim of half truth and stories to suit celebrities or personalities involved. THE TRUTH with Olisa has to do with nothing but THE TRUTH from celebrities.

Watch the maiden edition of THE TRUTH, featuring a mind blowing intimate interview with Wizkid and all subjects relating to his new music projects, women issues, his relationship with EME, social media trolls and his supposed beef with Davido.
THE TRUTH is a weekly TV program inclined to bring you real TRUTH from the horse's mouth, so subscribe NOW (https://www.youtube.com/user/OligarkiTV?sub_confirmation=1) to the channel in order not to miss any episode of the "The Truth" that will be uploaded every Thursday.

Video Link:
Video Link: