banned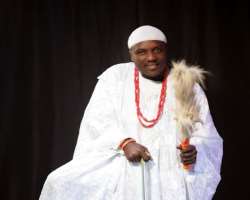 If nollywoodgists.com findings are anything to go by King Wasiu Ayinde a.k.a. K-1 De Ultimate, Wasiu Alabi Pasuma,, Saheed Osupa and other top fuji artistes may be banned by stakeholders in the music industry over the continuous release of the video of their live performances.
Investigations revealed that the music industry especially the audio music market is currently facing a hard time due to the sale of video of live performances of the artistes by a group of Alaba-based marketers.
Investigations further revealed that the stakeholders Music Advertisement Association of Nigeria (MAAN) Performing Musicians Association of Nigeria (PMAN) Fuji Musicians Association Of Nigeria (FUMAN) and Association of Gramophone and Record Distributors (AGRED), among others are currently meeting to find a lasting solution to the alleged sharp practice currently plaguing the industry.
nollywoodgists.com learnt that the activities of the top fuji musicians are allegedly aided by frontline Alaba-based marketers who organise shows and record the live performance on video which they put up for sale regardless of the quality of the work.
President of PMAN Admiral Dele Abiodun, Abel Dosunmu a.k.a. Megga 99 and other juju musicians have been complaining about the rate at which the videos are released into the market and its effect on the sale of audio works of other atistes.
Megga 99 specifically accused some of the marketers of fueling the crisis going on among fuji musicians for their own financial gain.
He told nollywoodgists.com. in an interview, that, because he refused to sing abusive songs his new job was rejected by a top marketer.
Speaking on the development MAAN's National Chairman Alhaji Waheed Oyediran a.k.a.Mosebolatan told us that his association is currently meeting with stakeholders in the music industry to find a lasting solution to the menace which he said "is hindering sale of audio works and because some people are benefiting from it, they have remained adamant. But I can assure you that by time the stakeholders meet over the issue we will come up with a resolution and the appropriate penalty against anybody or group that goes against such resolution."
Story by nollywoodgists.com