I Once Made Oge Okoye Cry In Public—Samzy Fresh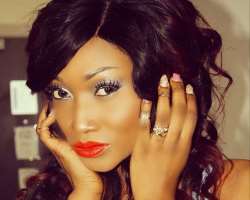 Fast-rising Nigerian artiste, Ngwoke Samuel better known as Samzy Fresh, in this exclusive interview with Nollywoodgists.com, explains that up and coming artistes in Nigeria have piracy and exuberant fees charged by on-air-personalities to battle with. Read excerpt of the interview below.
Tell us about yourself
My name is Ngwoke Samuel better known as Samzy Fresh. I am from Akaeze, in Ebonyi State. I do hip-hop and R&B. I am the last child of a family of four children from a disciplined Christian home. I fully joined the music industry at the age of 16.
What was your parents stand on your choice of career?
My father, who is late now, was one of the richest farmers in those days and I call him great father. I really missed him a lot and wished he was alive to see me grow. But my mother is alive and she is a trader. While taking a taking up a career in music, they respected my decision and urged me to remain focused. They love what I do.
What is your academic qualification?
I had my primary and secondary school educations in Imo state, but I am yet to gain admission into a university, but hopefully soon.
Tell us some of the projects you have worked on and what you are currently doing?
I just released a new single titled 'Tonight'. The song is simply about appreciating the beauty of a lady, it's a song you can't resist dancing to.
Which record label are you signed onto?
I am currently not with any record label. I will also love to engage myself to a good one if they come for me and what I have.
Do you think up and coming artistes are embraced before getting fame?
The music industry is very big now and competitive. First, you have to be talented and secondly, God's grace is needed. I have performed on the same stage with Davido, Banky W, Mike Okri, P-Square, to mention a few and we all are regarded as artistes.
What do you think are the challenges being faced by up and coming artistes in Nigeria?
One of the challenges we face as up and coming artistes is getting our songs on air for airplay on radio and television stations. For someone who is not under any management, the bills are not encouraging at all but we must not give up.
Who charges this money and what is the price range?
The presenters, they charge from N100,000 upwards. That's if you want your song to gain good air play. I am not saying they should talk about you and play your songs for free, but they should also consider good music as well.
After making such payment, how long does song stay on air?
For about two to three months, but I think a good management solves the problems. That's why I am hoping for one.
How many songs have you done so far?
'Tonight' is my second single so far. I have so many songs but I don't release songs anyhow, I release and push them.
What inspires your song writing?
I get inspiration from my life style, things that happen around me and God. I have great passion for music.
Do you think you can stand the heat in industry?
Believe me, I can. It's as simple as that.
Why do artistes now sing about booty and females rather than passing a message with their songs?
There are different kinds of people in the world and they all see the need to do different genres of music, but I try to pass a message with my music. There was a time I performed my song 'Tonight' recently at Sheraton hotel in Ikeja and popular Nollywood actress, Oge Okoye, was crying on stage. I actually dedicated the song to her, and she couldn't hold her feelings, the next was for her to start crying.
How do you tend to cope considering the bulk of talents in the industry?
Like I said, I am not here because people are making so much money from music. I am into music because I have passion for it and I believe if you meet the needs of people, they will bless you beyond your imaginations like they are doing to me already.
Can you do anything to get to the top like selling your soul?
Chai! Calm down! I have heard many people talking about artistes into 'this and that'. I am not speaking for anybody, but I cannot play with the soul God gave to me. When I become popular, know that it has been God all the way.
What do you think is the role of government in helping up and coming artistes in Nigeria?
I really think the government should look and see how they can come into the music industry and help stop piracy and not only using us artistes to campaign for elections.
Do you have a female celebrity crush?
I am a very friendly person, and mom always tells me that I should always stay away from trouble, indeed I have crush on some female celebrities but since I am to pick one, I go for actress, Juliet Ibrahim because she is very beautiful and friendly.
Can you marry a celebrity?
I don't think so.