What Lai Mohammed Told Me About APC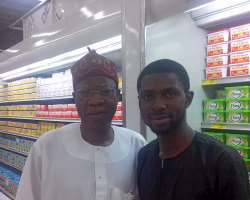 "The Secret of Change is to focus all your energy not on fighting the old, but on building the new." ~ Socrates
After writing critical works on APC, fate arranged a (probing) meeting with one of her Stakeholders. I ran into the man himself, Lai Mohammed, the Spokesman of the All Progressive Congress (APC) at a Shopping Mall in Lagos earlier in the week*. I was on a call when I spotted him so I had to end the call abruptly to say hello (with lots of questions)

As a mark of respect, I prostrated slightly as soon as I was close enough to be noticed by him . Immediately, his hand stretched out for a welcoming handshake like an expectant host. "Sir, " I said "it's nice meeting you in person" as I let my hand remain in his grip. It was a mild grip by his soft palm. The aura around him was so comfortable as he responded in smiles. Then a minor introduction followed.
He held my hand while we walked around to continue our talk ... about almost everything in the polity. From assessing the sincerity of the Central government in performing its primary duties of protecting lives and properties; to describing how the country is hemorrhaging because of the recklessness of government and so on.
Interesting characters filled our discussion. From Diezani to Ngozi to Sanusi , Jonathan, Asiwaju, etc. He was detailed and analytical in all his submissions. "There was always a good reason to oppose any obnoxious or inhuman policy of the Jonathan administration." I deduced.
The conversation was special in so many ways. No cameras, no spotlight , no recorders... Just the two of us. I asked questions freely and he responded genuinely. In all, he tried to justify the activity of the opposition. Like a mentor speaking to his protégé, Mr Mohammed spoke from his heart , passionately and convincingly.
I looked through this eyes as if to run a swift Integrity check on his body language. He was naturally enthusiastic about all his views. He believes we must stand up for change come 2015 for the benefit of our country.
Then came the point he wished the youths understood--the same message Asiwaju's Special Assistant passed to my friend in one of their meetings --that this struggle is to the benefit of the young people.
Thus, they need to be more concerned about the state of affairs of the country. "You see" he began "what the youth need is the structure and that is what we (APC) have already put in place." He sounded so sure about the interest of the Party in giving opportunity to young people.
Although we may have to wait for time to reveal so much about the party, his graciousness and affability made it easier for me to believe his words.
In truth, meeting him dispelled so many prejudices I had about the path the Nigerian opposition treads. In all it was a short but robust conversation and I hope to write an article on the fundamental issues of statecraft that he enlightened me on during the discussion when the time is ripe.
Above all this is the truth I hold so dear -- We must understand that no matter what happens the interest of the country must come first, always.
Showunmi Rex (@Remirex) Is The Senior Editor Of Deltaforte Magazine. His Interests Are Business And Politics.
Disclaimer:

"The views/contents expressed in this article are the sole responsibility of the author(s) and do not necessarily reflect those of The Nigerian Voice. The Nigerian Voice will not be responsible or liable for any inaccurate or incorrect statements contained in this article."