Madumere Becomes Ramp Ambassador......I Will Only Be A Real Ambassador When Imo Begins To Enjoy Gains Of Ramp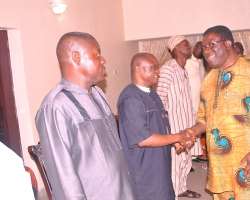 Effort of Imo State Government led by Owellem Rochas Okorocha towards making the living standard of her citizenry better could have been better appreciated other that the way the world bank personnel and RAMP National officers presented it through the deputy governor of Imo State.
In appreciation of his unflinching effort in ensuring that Imo State begins to enjoys the gains of Rural Access and Mobility Project, the the World Bank representatives and Coordinators of RAMP from other States yesterday pronounced Imo Deputy Governor, Prince Eze Madumere, RAMP Ambassador.
Speaking at a Dinner organized for World Bank representatives and other RAMP coordinators from other States by Imo number two citizen, Mr. Obadiah, pronounced the best deputy governor in the South East, the RAMP Ambassador.
In his appreciation address, he said though Imo is yet to begin to reap from the gains of the World Bank Assisted Project, RAMP, Prince Madumere, deputy governor of Imo State, has shown an untiring effort and obstinate belief in the project and that it would make appreciable impact in development of the rural areas in Imo State.
RAMP National office had organised a five day workshop for RAMP coordinators on Strategic Communication in RAMP Project with the World Bank representatives as the resource persons during the period.
In his response, while thanking the RAMP group and the world bank personnel for finding him worthy of being RAMP Ambassador, Prince Eze Madumere reminded them that he could only be a good Ambassador of RAMP when Imo State begins to benefit from the Project.
He thanked the RAMP family for obliging his call and call promised to even work harder to ensure that RAMP is begun in Imo State since the Governor has refused to sleep until the the RAMP is begun in Imo State.