Boko Haram Kingpin Killed in Kaduna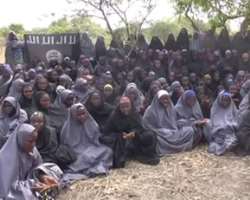 Boko Haram Kingpin Killed in Kaduna
Women beg for relocation as Chibok turns into killing field
John Shiklam   and Raheem Akigbolu
A man believed to be a top member of the dreaded Boko Haram sect has been killed by security operatives in Kaduna.
The suspect was said to have engaged in a gun duel with armed security operatives who stormed his Kinkino residence in Agwan Mu'azu area of Kaduna metropolis, following a tip off.
It was gathered that security operatives comprising the SSS, police and soldiers stormed the area at about 2 am on Sunday, cordoned off the house and ordered its occupants to come out.
But rather than obey the order by the security agents, the suspects who were said to be two in number opened fire on security agents who also responded by shooting at them.
A resident of the area who pleaded anonymity said the gun exchange lasted for about one hour, resulting in panic and apprehension among residents of the area.
"Initially we thought it was armed robbers that had invaded our area and we were making frantic calls to the police. But later discovered that it was a combined team of soldiers and police who came to arrest two people suspected to be Boko Haram members," he said.
The suspect was said to have been one of the top Boko Haram members who fled Maiduguri for Kaduna.
Sources further revealed that security agents had been on the trail of the suspect for a long time.
The second suspect was said to have attempted to escape but he was arrested and taken away.
Several school certificates and SIM cards were recovered from the kingpin's house after the gun duel ended.
Sources in the Kikino neighbourhood named them as Usman and confirmed that he relocated to the area about two months ago and had participated in normal religious activities with members of the community.
Source disclosed that the soldiers who carried out the operation came from Kano.
However, the Kaduna state police command could not confirm the incident.
Spokesman of the command, Aminu Lawan, an Assistant Suprintendant of Police (ASP) told THISDAY on the phone that he was not aware of the killing or arrest of any Boko Haram suspect.
"We have no report of such an incident in any part of Kaduna, I am just hearing it from you," he said.
In another incident, Chibok women, many of whose daughters are still held by the terrorists 85 days after there were kidnapped, have have cried out, asking that they be relocated from the terror zone.
Ever since the April 14 abduction of over 200 schoolgirls from the Government Secondary School, Chibok, there has been anxiety and threats of attack on the community.
However, the pains, tears and sorrow of the women took a new turn yesterday when they called on well-meaning Nigerians to help them and their children relocate from their village, as several surrounding villages have been attacked with huge casualties.
Most of the communities have not only lost many of their loved ones, but also their homes and sources of livelihood, as too often, their homes, businesses and farmlands are razed in the incessant attacks.
The mounting fear has caused the villagers to relocate to the top of the mountains and the surrounding bushes where they are now being bitten and killed by snakes and other dangerous animals.
The distressed women who spoke on the phone with reporters at a press briefing organised by Gabasawa Women and Macedonian Initiative, two non-governmental organisations (NGOs), said they had relocated to the bush for fear of being killed by dreaded Boko Haram members.
They painted the harrowing picture of how their children were dying of snakebites in the bush and how their husbands were being killed on their farmlands. The women expressed concern over the way they had suddenly been turned into undertakers burying the corpses of family members as most of their husbands had been gruesomely murdered.
A man, who identified himself as Phillip, said men in the area had also given up hope.
"As things are, we don't have hope in soldiers and government but in spirited Nigerians, especially women of substance, who can pull resources together to relocate our wives and children to other parts of the country. It is obvious the soldiers are helpless.
"A few days ago, we received a distress call and we intimated the soldiers but they said they had been overpowered. Civilians, who could boast only of sticks tried to prevent the horror but they were helpless. They were killed alongside scores of others,"
A member on the board of Gabasawa Women, Rev. Ladi Thompson, said the two organisations were already talking with some South-west governors and influential women to join forces with them to relocate the women and children from Chibok.
He said: "We are setting up a fund to assist in the extraction of those who are crying for help. We are already processing requests and the design structure, such that children and women are given priority in the relocation process."
thisday