At last, they got Paulo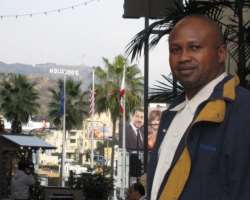 nfc told you sometime last year when trouble was brewing for president of the Association of Movie Producers, AMP, Nollywood actor, Paul Obazele, popularly called Paulo, was embattled. But he quickly denied the claim, as he, alongside producer Zeb Ejiro, stuffed in large quantities of grilled fish at O'jez. Well, the bubble has finally bust. Alleging Paulo's Abacha-like style of administration, nearly all Nollywood big and small producers have decided to jump ship and form a new body called Association of Nollywood Core Producers, ANCOP. The media unveil is planned for end of this month at Rita Lori Hotels, Lagos. The president of the new body, Alex Eyengho, gave all these details. Without mentioning names, no known producer is still with Paulo's AMP anymore. At the moment, the song that is apt to play for the now embattled president of AMP, is Azizat's Lonely. One needs a crash course on how to blindside somebody from these ANCOP members.
Paulo is truly embattled this time, no doubt.
Story by nollywoodgists.com