If it is comfy, it's...Biola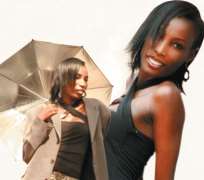 BIOLA Boris is a model. Her career on the runway started when she left secondary school. While still waiting for admission into university, the Lagos State-born lady and the last of her parents' five children had begun to strut the runway with ease and confidence, which surprised many . The graduate of Industrial Relations and Personnel Management (IRPM), who is pursuing a master's degree in Public and International Affairs at the University of Lagos, began her modeling career with Dakova, who gave her the first break because he liked her shoulder, which he called Hanger. The multiple awards winner — The African Face (LASU), The Best Runaway Model in Abidjan and an achievement awards from the Nigeria Next Super Model in 2009 — tells KEHINDE OLATUNJI what fashion is to her.
What is fashion to you?
It is embedded in style. It is a trend that builds an individual's personality; it says who you are and what you represent.
Style of dressing
My style is less or more. It's what makes me comfortable, but I prefer make up from professionals.
Favourite piece of clothing
My little black dress, couple with my high heel sandals.
Signature scent
D&G.
Favourite designer
Dakova. His style is embedded into a whole lot of sense.
Turn on
Honesty brings tears to my eyes; it humbles my spirit and gets me drawn to people even if the truth hurts.
Turn off
Stealing, I hate a thief with passion.
Your opinion of the country's fashion industry
It evolved from where it was to where it is now.
Role model
Naomi Campbell, Mrs. Joan Okorodudu, Dakova, Modella and Frank Osodi. These people have made huge contribution to the industry and to the life of the upcoming models and I also wish to make greater impact.
Social life
I enjoy dancing, so, I do it in church and sometimes, once in two months, I go clubbing and also I like meeting people. However, I'll say I've got a limited number of friends and countless acquaintance.
Leisure time
I play basketball, dance, listen to music and read books. I also give back to the society by giving free grooms to upcoming models in the country.
Philosophy of life
Silence is golden. The less you say, the more intelligent you appear.
What would you like to change in Nigeria?
I will wage war against corruption. The war will start from tertiary institutions and end up at government parastatal.
Story by nollywoodgists.com