Omotayebi wins YOMAFA Best Islamic Singer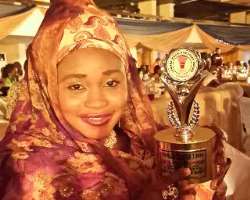 Alhaja Aminat Babalola Balogun, popularly known as Omotayebi, has carved a inche for herself in the Islamic music industry as she has emerged as one of the highly-rated songstresses on account of her unmatched talent and juicy lyrics.
Omotayebi, as she fondly called among her music lovers, clinched an award of honour as the best Islamic Female Singer of the Year 2014 at the third edition of Yoruba Music and Films Awards (YOMAFA) held on Sunday, 29 June, 2014 at the National Arts Theatre, Iganmu, Lagos.
Abdusalam Azeez Abiodun, also known as Ojulowo Omo, won the Best Male Islamic Singer Award, while Okiki Films and Music Productions bagged the Best Marketer Award and Ozzybosco won the Young Achiever's Award 2014.
The event, which was graced by dignitaries from all walks of life, debuted in November 2008 at the Lagos Television (LTV) complex.
Meanwhile, the light-complexioned singer, Omotayebi, has made her presence felt in the music scene since the release of the album titled 'Oko Oworu', which brought ino the limelight.
Recently, she released another hit album titled 'Oore Idunnu' (Joyful Blessing), the video of which will be released before the last quarter of Ramadan and to be marketed by Okiki Films and Music Productions.
The song 'Oore Idunnu' (Joyful Blessing) it is a must-have in every home based on the deep lyrics loaded in the album.