JIBOLA DABO CONGRATULATES AYO FAYOSE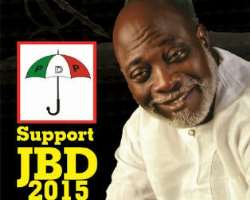 JIBOLA DABO CAMPAIGN ORGANIZATION
JBD 2015
26th June 2014

PRESS RELEASE
JIBOLA DABO CONGRATULATES EKITI STATE GOVERNOR-ELECT AYO FAYOSE
The PDP House of Representative contestant for Owo/Ose Federal constituency in 2015 election, Jibola Dabo has congratulated the governor- elect of Ekiti State, Mr. Ayo Fayose on his "Land slide Victory" at the recently concluded election.
The brilliant actor and grass root politician stated through his spokesperson, Bisola Iyasara that his wisdom in choosing PDP as the umbrella of rescue to his people has been justified by the victory of a fellow grass root politician. 'Our people need only those leaders with great vision for the grass root and the awareness has just begun.' Says, Jibola Dabo.
My brother and friend Ayo Fayose, has re-defined Nigerian election with the overwhelming approval of his mandate by his people. As our great party, the People's Democratic Party makes far-reaching gains in the South West zone; I urge every electorate to come to the consciousness of the fact that PDP is the ideal rescue political party for our people.
Signed
Bisola Iyasara
SpokesPerson, Jibola Dabo Election Project.