Some People Still Believe I'm A Kid--Helen Paul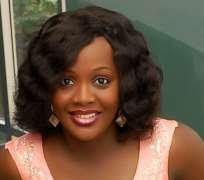 Nigeria's female comedienne, Helen Paul aka Tatafo, recently disclosed that she sometime does not receive good welcome at events as she is always perceived to be a small girl.
She explained that her kid voice is just natural that even at home, she does it and everyone laughs and her husband loves it very much with her son.
Tatafo narrated her ordeal that someone once used a commanding tone on her, but she understood but had to pretend not to hear and ignored the fellow.
The on-air-personality added that she was a complete theatre artist and as such, she needs to represent whatever character she is portraying well so as to be able to pass the message.
Currently studying for her Ph.D in Theatre Arts at the University of Lagos, the mother of one, who anchors two radio programmes, 'Tatafo Gist' and 'Comedy Drive', respectively, added that "Life itself is a lesson, and we all learn every day. I have learnt to keep getting prepared, and keep being myself."