Netherlands beat Chile, Spain wins over Australia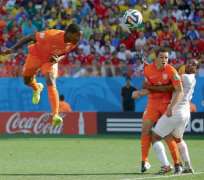 The Netherlands and Spain each won group games on Monday, usually a confidence booster at this stage of the World Cup.
For the Dutch, a 2-0 win over Chile confirmed top spot in Group B and its status as a World Cup favourite. For 2010 champion Spain, a 3-0 win over Australia in a game featuring two already-eliminated teams only served to avoid further embarrassment after a failed World Cup defence.
Much like his team, Arjen Robben was widely thought to be past his prime. At the World Cup, though, he is running as fast as ever for the Netherlands.
The Dutch scored twice in the last 13 minutes against Chile to finish the group stage with three straight wins.
The Group A runner-up will face the Netherlands. Ahead of the tournament, that wouldn't have been frightening news, but after scoring 10 goals in three victories, only the foolhardy would relish the prospect of facing the orange-clad team.
"We wanted to be first in the group. Now we will see what is coming at us," said Robben, who added an assist against Chile to the three goals he scored in earlier games.
Leroy Fer scored a minute after going on as a substitute to get the Netherlands ahead in the 77th minute. Then, when some other players had already gone down with cramps, Robben launched into another of his trademark sprints across the pitch and passed perfectly to Memphis Depay for the tap-in which put the game away.
While Robben is going strong after hitting his thirties, age caught with the Spanish stars from their 5-1 opening loss to the Netherlands.
They regained a little pride on Monday. In a game of goodbyes, David Villa marked his final appearance for Spain with a record 59th goal for the national team.
Fernando Torres, who set off Spain's rise by scoring the winner in the 2008 European championship final before the nation added the 2010 World Cup and Euro 2012 titles, also scored. Juan Mata added the third.
At least Spain avoided finishing last in its group.
Uruguay, the semifinalist of 2010, could be facing elimination on Tuesday, but after Luis Suarez scored both goals against England, there is no counting out the South American former champion.
Suarez shrugged off any lingering concerns about his surgically repaired left knee and said he was in "perfect shape" to face Italy.
England have left Wayne Rooney out of their side as boss Roy Hodgson makes nine changes for Tuesday's final game of their World Cup campaign against Costa Rica.
Only centre-back Gary Cahill and striker Daniel Sturridge retain their places from the side which lost 2-1 to Uruguay on Thursday, with England already unable to qualify for the knockout stages.
Ben Foster will start in goal, while Phil Jones, who replaces Glen Johnson at right-back, Chris Smalling and Luke Shaw all come into a revamped back four.
Frank Lampard will skipper the side in midfield, with James Milner and Jack Wilshere also making their first starts of the World Cup.
And Ross Barkley and Adam Lallana, who have featured off the bench during the games against Italy and Uruguay, get the nod from Hodgson, who admitted he was keen to give game-time to as many of his 23-man squad as possible.
"With a very different team and a lot of players who haven't played in the tournament so far, I wanted everyone to go home from this tournament – or at least as many as possible – having taken part and played in a game, not just training," said Hodgson.
"We're very conscious of the fact that our fans are as disappointed and devastated as we are, but they are still here supporting us.
"We came into the hotel and received a lot of sympathy, kind words from them and we really want to make certain that they see something that they can take some encouragement from.
"And most importantly of all, it's a top-class international on the biggest stage of all, the World Cup, so anything else than taking the game very seriously and trying to win the game in its own right would be out of the question."
The changes mean that come kick-off time in Belo Horizonte on Tuesday only midfielder Alex Oxlade-Chamberlain, who aggravated his knee injury in training on Monday, and third-choice goalkeeper Fraser Forster will have failed to make an appearance in Brazil.
"When you fail at a World Cup and have to leave the tournament, that final game is the one can lead us to the future," added Hodgson.
"This is a chance for us to show that we can compete with this team and it is a great opportunity for a lot of the players."
"With a very different team and a lot of players who haven't played in the tournament so far, I wanted everyone to go home from this tournament – or at least as many as possible – having taken part and played in a game, not just training."
Roy Hodgson
Lampard said the criticism the squad had come in for, after becoming the first England side to exit the World Cup in the group stages since 1958, meant the team now had to "show their character".
"It's been a tough few days. We came here to do better than what we turned out to do.
"Now we are in a situation where we have to show we're men.
"Wayne (Rooney), Steven (Gerrard), Joe (Hart) have all said we're disappointed, but as grown men, as grown-ups, we have to move on.
"This is about showing the pride of wearing an England shirt, whether it's a friendly or a game like this.
"It would be very easy to roll over and say it hasn't been our tournament, let's go home with three defeats.
"If we can take anything from this tournament it's been the progression behind the scenes and, hopefully, a result on Tuesday."
England side to face Costa Rica: Ben Foster, Phil Jones, Gary Cahill, Chris Smalling, Luke Shaw, James Milner, Frank Lampard, Jack Wilshere, Ross Barkley, Adam Lallana, Daniel Sturridge. AP