IMF RATES GHANA AHEAD OF SPAIN AS WORLD CUP FAVOURITE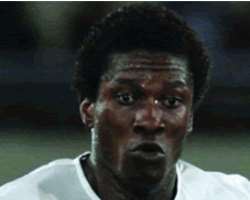 Gyan
According to a recent IMF (International Monetary Fund) report, West African nation, Ghana, is ranked as favourite for the 2010 World Cup in South Africa - but in the financial sector, not on the pitch.
The figures of the report collated by the M&G Investments state that the four-time African champion will have an annual percentage change of 5% this year as a result of the global football fiesta, more than any other nation competing at the summer tournament.
Fellow West African country, Nigeria, is predicted to follow closely with a 5% annual change too, while Chile is third favourite for the 'IMF GDP World Cup' with an expected 4% change. England (represented as UK) is 22nd favourite with GDP change expectations of less than 1%, while Spain-World Cup favourite with most bookies - is at bottom of the IMF's list with a figure approaching -1%._ Brazil, five-time World Cup winners and second favourite to win this summer's tournament, is 10th on the IMF's chart.
According to the Bond Vigilantes website, host South African treasury estimates that GDP will be boosted by 0.5 percent as fans follow their teams to the country for the world's most watched tournament. __So far, South Africa has spent 33 billion rand (almost £3 billion) and more than 130,000 jobs have been created between 2007 and 2010. At the previous World Cup in 2006, the German Government estimated over €3 billion was added to the economy with €400 million pumped into the country during the month of the World Cup. It is estimated that this boosted German GDP by around 0.4%, the direct result of a large increase in consumption.