PHCCIMA, Total Hosts 20 French Companies In Port Harcourt For Expansionist & Collaborative Business Interest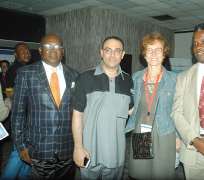 A delegation of 20 reputable French companies recently stormed the shores of Rivers state with the aim of establishing expansionist business and invaluable collaborations expected to be of mutual benefit between Port Harcourt Chamber of Commerce members companies and French business interest.
The visit facilitated by the Port Harcourt Chamber of Commerce, in collaboration with multinational oil giant Total E&P and French Agency for International business development, UBIFRANCE started with a business session at the Banquet hall of Hotel Presidential on the 5th of June 2014 where the French foreign investors met with business partners and target clients from the Port Harcourt Chamber of Commerce for prospective matchmaking and possible business collaborations.
The event which has become an annual gathering is said to have contributed immensely to the volume of trade between Nigeria and France, and has played a major role in creating jobs to help stem the rising cases of unemployment. Apparently, entrance of these companies annually has contributed in placing the country in the right pedestal especially in boosting Nigeria's business image in the international community.
Emeka Unachukwu, President of Port Harcourt Chamber of Commerce, Industry, Mines and Agriculture (PHCCIMA) in his opening remarks at the Hotel Presidential, Port Harcourt, commended the French delegation for their consistent business visits to Nigeria and for identifying with PHCCIMA's aims and objectives of fostering healthy business ties between the two countries.
'You are here to explore your business and meet the people you are going to do business with. Your visit will contribute in the volume of trade between Nigeria and France and will obviously open more partnerships of mutual benefits,' Unachukwu was quoted as saying.
He went further to say that the business visit would help Nigeria and France to learn a lot of things especially in the area of culture, mode of dressing among others and shall open vistas of opportunities.
Unachukwu explained that the aim of PHCCMA in collaboration with Total E/P and UBIFrance was to bring businesses closer to Nigerians and to enhance the ability of French companies to explore the big advantage of doing business in Nigeria following the apparent changes in our business laws that is now investors friendly. He disclosed that many French businesses registered in Nigeria are doing so well and stressed that Port Harcourt is the best place for the various companies to do their businesses being the hub of oil and gas and commercial nerve of the nation.
However in an interview with Unachukwu on why the masses are still swimming in poverty despite the country being the largest economy in Africa, he noted that the problem was that Nigeria has no middle class and that the infrastructure that will stimulate the eradication of poverty was yet to be put in place and as soon as that was done,' we will drift from poverty to the middle class and to the very rich'.
And to build the middle class Unachukwu stated, we needed to create the infrastructure, build industries, grow the manufacturing sector, because the middle class does not just arrange from the air.
The leader of the French business delegation, Agnes Hagyak, Ubifrance, Oil and gas project manager, in an interview said the visit would help the visiting French Companies to meet their international business counterparts because Nigeria is a big country and the largest economy in Africa and with great potentials.
Agnes stated that Port Harcourt was chosen because it is the hub of Oil and Gas industry in Nigeria. She noted that past visits of French companies had yielded the desired fruit because France had established a good presence in Nigeria.
Some of the companies which recorded their presence in this year's visit includes; 3xEngineering which has become one of the pipe repair world leaders, with an annual turnover of five million Euros and annual export of 90 percent of its product. Its exporting areas are Europe, Africa and Asia.
AE&T Company has its annual turnover of 10 million Euros, with presence in West Africa, Algeria and Europe, CMR Group with interest in safety, monitoring, supervision, packaging including high quality marine, ATEX qualified sensors and supervision systems. Its annual turnover is 70 million Euros and export turnover of 55 million Euros.
Drillstar industries which manufacture high quality and innovative equipment for drilling, fishing and completion with over 33 years of experience in the oil and gas sector has 10 million Euros as annual turnover and export turnover of million Euros, its presence is in Europe, Africa, Middle East and Asia.
Included in the delegation were Meteo Group, with annual turnover of 48 Million Euros and having worldwide presence with export turnover of nine million Euros, NIEDAX France with annual turnover of 42 million Euros and worldwide presence and SNEF with 10,000 employees and annual turnover of 900 million and export turn of 25 percent.
Others were Amamile, Amethyste, Atex System, BURACCO, CATU, CVA, etc.
The successful visit was rounded up with an elaborate farewell party for the visiting French delegation held at the Platinum Night club of Presidential Hotel.