I'm Ready To Marry A Poor Man—Evia Simon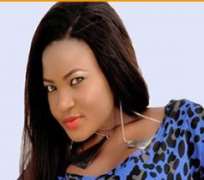 In Nigeria, ladies are believed to be very materialistic and would even go as far as dating or marrying a monkey if he is 'loaded' (a word used to describe a rich guy).
But for fast-rising actress, Evia Simon she is not that type of girl interested in a man's money. For her, love matters and comes first.
The actress made this known in a recent interview, where she stated that she can stand love and bear all the things that come with it, but not anything that comes with money. Evia disclosed that she dislikes when a man feels she is with him because of the money.
She further revealed that she is having difficulty in getting her Mr Right because of her massive butts, which she says it is becoming embarrassing for her. She expressed her frustration at not whether men that come around her want her for real or for fun.